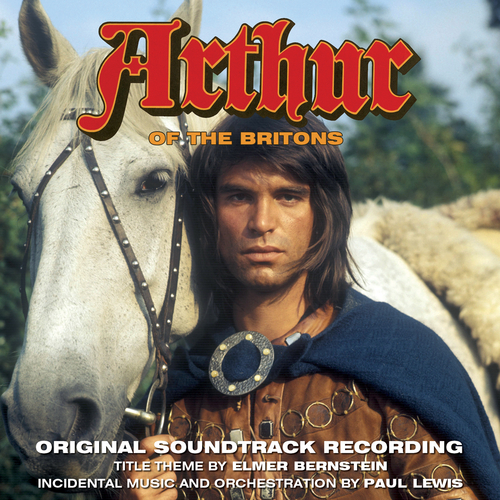 Arthur Of The Britons
Available Formats
Tracks
Price
Buy
CD Album
34 tracks

£

8.99

Out of stock

Download Album (

FLAC

)
34 tracks

£

7.99

Download Album (

MP3

)
34 tracks

£

7.99

Download individual tracks
From £0.99
Description
The Belgian Studio Symphony Orchestra - Arthur Of The Britons
The first release of the original Paul Lewis TV soundtrack to Arthur of the Britons. Paul Lewis' career covers half-a-century
and includes Armchair Theatre, Tales Of The Unexpected and Woof!
The insistence of the American co-producers to have the title theme provided by Elmer Bernstein is an added bonus, and is commercially available for the first time with this release. The composing legend (The Magnificent Seven, The Great Escape, True Grit) delivered a stirring call to arms, a real collector's item. Performed by Paul Lewis and The Belgian Studio Symphony Orchestra.

Reviews
Arthur Of The Britons is an unreleased HTV score from the early 70s, and opens with a chiming, adventurous theme by PAUL LEWIS, who follows that with a further 32 cues he wrote for this good-looking historical drama starring Oliver Tobias. With the use of muted trumptes, excellent and consistent pizzicato percussion and woodwind he creates an interesting, distinctive but not too obvious period feel. Many of the cues are a good length: mini "mood" suites, if you like, created as music that could easily be edited, chopped and used when needed. It's simple but quite deep, with some unexpected arrangements, and it teeters on the brink of mystery, horror and suspense – genres that Lewis seemed to specialise in. Interesting and unexpected, it also finishes with the original Elemer Bernstein theme, which actually seems wildly out of place and far too American for our Arthur.
- Record Collector
Tracklisting
CD Album (SILCD1422)
The Belgian Studio Symphony Orchestra

- Flourish for a Hero

The Belgian Studio Symphony Orchestra

- Sinister March

The Belgian Studio Symphony Orchestra

- Celtic Horns / The Longship

The Belgian Studio Symphony Orchestra

- Sentinels

The Belgian Studio Symphony Orchestra

- To Battle!

The Belgian Studio Symphony Orchestra

- Infiltration and Treachery

The Belgian Studio Symphony Orchestra

- Hesitation and Achievement

The Belgian Studio Symphony Orchestra

- Kai the Saxon / Skirmish and Rout

The Belgian Studio Symphony Orchestra

- Muttering and Plotting

The Belgian Studio Symphony Orchestra

- Battle On Horseback / Bitter Victory

The Belgian Studio Symphony Orchestra

- Desolation and Despair

The Belgian Studio Symphony Orchestra

- Duel

The Belgian Studio Symphony Orchestra

- In All Weathers

The Belgian Studio Symphony Orchestra

- Chase!

The Belgian Studio Symphony Orchestra

- At Dead of Night

The Belgian Studio Symphony Orchestra

- Danger Mounts

The Belgian Studio Symphony Orchestra

- Pensive Moment

The Belgian Studio Symphony Orchestra

- Celtic Girl

The Belgian Studio Symphony Orchestra

- Celtic Dance

The Belgian Studio Symphony Orchestra

- The Fair Rowena

The Belgian Studio Symphony Orchestra

- Celtic Bard

The Belgian Studio Symphony Orchestra

- Revelry

The Belgian Studio Symphony Orchestra

- Arrival of Arthur

The Belgian Studio Symphony Orchestra

- Carousal

The Belgian Studio Symphony Orchestra

- Arthur Is Dead

The Belgian Studio Symphony Orchestra

- Evil Stirs

The Belgian Studio Symphony Orchestra

- Apotheosis

The Belgian Studio Symphony Orchestra

- Purposeful March

The Belgian Studio Symphony Orchestra

- Pastoral Episode

The Belgian Studio Symphony Orchestra

- Night Scene

The Belgian Studio Symphony Orchestra

- Lyrical Romance

The Belgian Studio Symphony Orchestra

- Children's Games

The Belgian Studio Symphony Orchestra

- Springtime

The Belgian Studio Symphony Orchestra

- Arthur of the Britons Title Theme
Download Album (SILED1422)