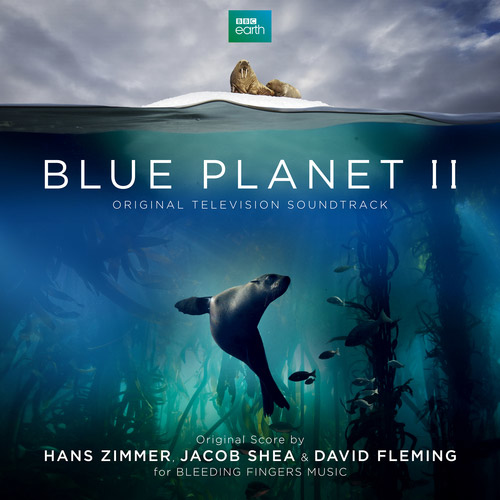 Blue Planet II (Original Television Soundtrack)
Available Formats
Tracks
Price
Buy
CD Album
19 tracks

£

8.99

Out of stock

Download Album (

MP3

)
19 tracks

£

8.99

Download Album (

FLAC

)
19 tracks

£

8.99

Download individual tracks
From £0.99
Description
Hans Zimmer, Jacob Shea & David Fleming - Blue Planet II (Original Television Soundtrack)
A generation on from the BBC Natural History Unit's series The Blue Planet, Blue Planet II uses breakthroughs in marine science and cutting-edge technology to explore new worlds and reveal the very latest discoveries. This landmark seven-part series will bring viewers face to face with unexpected new landscapes and introduce compelling contemporary stories from our ocean. Over the course of more than four years, the Blue Planet II team have mounted 125 expeditions, visited 39 countries, filmed across every ocean and spent over 6,000 hours diving underwater to bring us closer than ever before to the captivating lives of some of the most extraordinary sea creatures. Following on from their soundtrack success with Planet Earth II, the Emmy and BAFTA nominated Bleeding Fingers Music team headed by Hans Zimmer deliver once more their perfect harmony of matching music to stunning images of nature. With over 120 soundtracks to his credit which have grossed 24 billion dollars at the box office Hans Zimmer has been honoured with many accolades, an Academy Award, two Golden Globes, three Grammys, an American Music Award, a Tony Award and The Henry Mancini Award for Lifetime Achievement. His Academy Award nomination for Interstellar marked his 10th Oscar nomination. Jacob Shea is lead composer at Bleeding Fingers winning BMI Awards for Mountain Men and Alaskan Bush People. David Fleming began his career working with the master of TV music, Mike Post, recent work includes contributions to Divergent, Teenage Mutant Ninja Turtles: Out of the Shadows, and Transformers: The Last Knight.
Reviews
"The score is so immense, it's so full of life and wonder yet so beautifully delicate at times… Blue Planet II is some of the finest nature documentary scoring you'll find."
***** Film Music Media
"…the glories just kept on coming"
***** The Daily Telegraph
"…(the score) gives the show its gravitas and is gorgeous"
***** The iPaper
"This underscore celebrates the magic and beauty of the natural world, marking yet another triumph for an amazing series that has inspired nothing but great things from its composers."
***** FSM
Tracklisting
CD Album (SILCD1560)
Hans Zimmer, Jacob Shea & David Fleming

- The Blue Planet

Hans Zimmer, Jacob Shea & David Fleming

- Family Theme

Hans Zimmer, Jacob Shea & David Fleming

- Surfing Dolphins

Hans Zimmer, Jacob Shea & David Fleming

- Abyssal Plain

Hans Zimmer, Jacob Shea & David Fleming

- Mobula Rays

Hans Zimmer, Jacob Shea & David Fleming

- Race to Feed

Hans Zimmer, Jacob Shea & David Fleming

- Albatross Flight

Hans Zimmer, Jacob Shea & David Fleming

- Big Blue

Hans Zimmer, Jacob Shea & David Fleming

- Turtle Spa

Hans Zimmer, Jacob Shea & David Fleming

- Ducks and Currents

Hans Zimmer, Jacob Shea & David Fleming

- Humboldt Squid

Hans Zimmer, Jacob Shea & David Fleming

- A Forest Awakens

Hans Zimmer, Jacob Shea & David Fleming

- Scavengers of the Deep

Hans Zimmer, Jacob Shea & David Fleming

- Kobudai Transformation

Hans Zimmer, Jacob Shea & David Fleming

- Clownfish

Hans Zimmer, Jacob Shea & David Fleming

- Baby Turtle

Hans Zimmer, Jacob Shea & David Fleming

- Weedy Sea Dragon

Hans Zimmer, Jacob Shea & David Fleming

- Portuguese Man of War

Hans Zimmer, Jacob Shea & David Fleming

- Walrus: The Right Piece of Ice
Download Album (SILED1560)