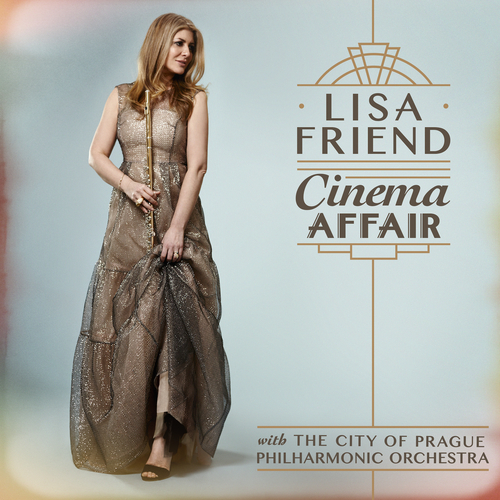 Cinema Affair
Available Formats
Tracks
Price
Buy
CD Album
12 tracks

£

8.99

Out of stock

Download Album (

MP3

)
12 tracks

£

7.99

Download Album (

FLAC

)
12 tracks

£

7.99

Download individual tracks
From £0.99
Description
Lisa Friend - Cinema Affair
Delivering a passionate and flawless performance, Lisa Friend creates a sublime interpretation of Cinema Paradiso, Once Upon A Time In America, Dances With Wolves, Legends Of The Fall, The Cider House Rules to name but a few.
The inspiration for this album is firmly rooted in Lisa's New York childhood. Lisa's father was Concertmaster of the New York Philharmonic, and during his years leading the orchestra, Lisa would attend the rehearsals and recordings to watch him perform some of the great 20th Century film scores - Woody Allen's choice of George Gershwin's music for Manhattan conducted by the great Zubin Mehta, John Williams's The Witches Of Eastwick, Leonard Bernstein's work, Bernard Herrmann's Psycho, Maurice Jarre's Lawrence Of Arabia. Lisa's parents would play cassettes of 'The spaghetti Westerns' scores in the car, and as a teenager, Lisa became riveted by Ennio Morricone's masterpiece Cinema Paradiso and Ennio became Lisa's hero film composer. She even wrote her first and only ever fan letter to the great Morricone, thanking him for this incredible music.
Whilst in New York, Lisa studied with Renee Siebert of the New York Philharmonic who proved a huge influence on her artistic development. Lisa's intense classical music training took off with her winning a scholarship at 17 and arriving in London to study with Susan Milan at the Royal College of Music. She continued her postgraduate studies as a 'Martin Music Scholar' with the late Alain Marion of the Paris Conservatoire and high profile solo and chamber appearances soon followed. Lisa appeared as a soloist with the Philharmonia Orchestra, City Of Prague Philharmonic, Virtuosi Pragenses Chamber Orchestra, Royal Liverpool Philharmonic Orchestra, Oxford Philharmonic, touring throughout much of Europe, Asia and the USA.
Notable solo appearances include performing her composition, 'Deep In My Soul' for Steven Spielberg and his foundation 'SHOAH', Wigmore Hall solo recital, live recitals for Classic FM and BBC Radio 3 as well as a recital for the 'Cinematic Classics' series at the LG Arts Center-South Korea. Lisa has also performed with Yehudi Menuhin at Buckingham Palace, Sir George Solti and alongside Liza Minnelli in aid of the White Rose Ball Fundraiser. Lisa has recorded for Universal, Champs Hill, Signum Records and Silva Classics and is currently recording with the Brodsky Quartet for the Chandos label, to be released in early 2017.
Tracklisting
CD Album (SILKD6053)
Download Album (SILKED6053)
Lisa Friend

- The John Dunbar Theme (From "Dances With Wolves")

Lisa Friend

- Once Upon A Time In America Main Theme (From "Once Upon A Time In America")

Lisa Friend

- Cinema Paradiso Love Theme (From "Cinema Paradiso")

Lisa Friend

- Whisper of a Thrill (From "Meet Joe Black")

Lisa Friend

- La Califfa

Lisa Friend

- Pride and Prejudice

Lisa Friend

- The Red Tent

Lisa Friend

- Where Dreams Are Born (From "A.I. Artificial Intelligence")

Lisa Friend

- The Ludlows (From "Legends Of The Fall")

Lisa Friend

- Cinema Paradiso Main Theme (From "Cinema Paradiso")

Lisa Friend

- The Cider House Rules End Titles (From "The Cider House Rules")

Lisa Friend

- Love Affair End Credits (From "Love Affair")