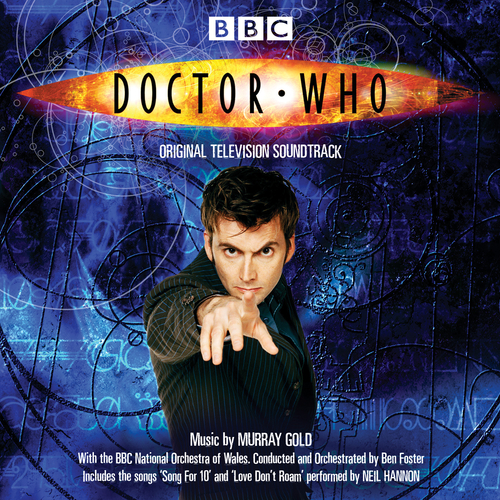 DOCTOR WHO
Available Formats
Tracks
Price
Buy
CD Album
31 tracks

£

8.99

Download Album (

MP3

)
31 tracks

£

7.99

Download Album (

FLAC

)
31 tracks

£

7.99

Download individual tracks
From £0.99
Description
Various Artists - DOCTOR WHO
This is the first release of music from the series revival and includes the acclaimed new version of the theme.

Neil Hannon (The Divine Comedy) performs two songs, Song For 10 from 2005's Christmas Special and Love Don't Roam from The Runaway Bride, broadcast as the key BBC programme for Christmas Day 2006.

Murray Gold is one of the most powerful British composers working in film and TV with successes including Alien Autopsy, Casanova, Shameless and Mischief Night.

Over 75 mins of music from the two new Doctor Who TV seasons.

Reviews
"All the music here is memorable, hugely engaging and the album is easily one of the best of 2006, even pipping George Fenton's Planet Earth as best television score. You can keep your bland Star Trek TV music or your synthy Battlestar Galactica noodling or, dare I said it, Giacchino's fine music for Lost. This is the real deal, TV music with the budget, imagination, heart, soul and complexity of that for the darkened theatre. Terrific stuff. More BBC, more!"
- Soundtrack Express
"..seventy-five minutes of TV music that puts most big screen feature film soundtracks to shame."
-Film Ink
Tracklisting
CD Album (SILCD1224)
Murray Gold

- Doctor Who Theme – TV Version

Murray Gold

- Westminster Bridge

Murray Gold

- The Doctor's Theme

Murray Gold

- Cassandra's Waltz

Murray Gold

- Slitheen

Murray Gold

- Father's Day

Murray Gold

- Rose In Peril

Murray Gold

- Boom Town Suite

Murray Gold

- I'm Coming To Get You

Murray Gold

- Hologram

Murray Gold

- Rose Defeats The Daleks

Murray Gold

- Clockwork TARDIS

Murray Gold

- Harriet Jones, Prime Minister

Murray Gold

- Rose's Theme

Neil Hannon

- Song For Ten

Murray Gold

- The Face of Boe

Murray Gold

- UNIT

Murray Gold

- Seeking The Doctor

Murray Gold

- Madame de Pompadour

Murray Gold

- Tooth and Claw

Murray Gold

- The Lone Dalek

Murray Gold

- New Adventures

Murray Gold

- Finding Jackie

Murray Gold

- Monster Bossa

Murray Gold

- The Daleks

Murray Gold

- The Cyberman

Murray Gold

- Doomsday

Murray Gold

- The Impossible Planet

Murray Gold

- Sycorax Encounter

Neil Hannon

- Love Don't Roam

Murray Gold

- Doctor Who Theme – Album Version
Download Album (SILED1224)