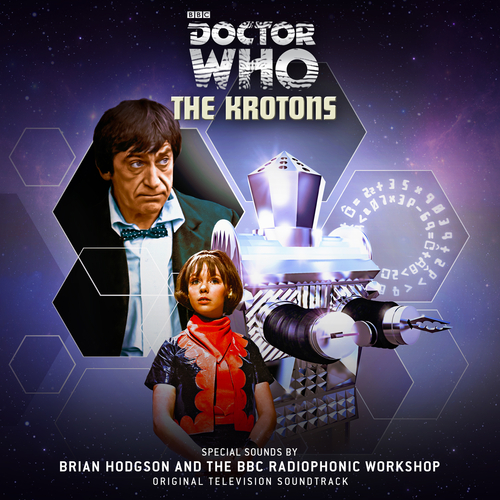 Doctor Who: The Krotons
Available Formats
Tracks
Price
Buy
10" Vinyl Album
24 tracks

£

12.99

CD Album
24 tracks

£

6.99

Download Album (Original Television Soundtrack) (

FLAC

)
24 tracks

£

5.99

Download Album (Original Television Soundtrack) (

MP3

)
24 tracks

£

5.99

Download individual tracks
From £0.99
Description
Brian Hodgson, Delia Derbyshire and The BBC Radiophonic Workshop - Doctor Who: The Krotons
Generating and manipulating music and sound effects defines sound design, a process that is common on TV and film productions nowadays. However The BBC Radiophonic Workshop was way ahead of the game in the 1960s. Brian Hodgson was a member of the Workshop working closely with the seminal figure of Delia Derbyshire. As the original sound effects creator for Doctor Who he was responsible for the chilling Dalek voices and the powerhouse sound of the Tardis lifting off (created by running a back door key for his mother's house along the bass string of a gutted piano and treating it electronically). His highly innovative techniques are fully on display on this collection of 'special sounds' that provided the background to Doctor Who - The Krotons, broadcast in December 1968/January 1969.
Reviews
"Cleverly lyrical and tonally accountable in its structure, Hodgson's definitive 'sound treatment' skilfully enhances the on-screen drama with dramatic, emotive and chillingly effective 'cues'… A testament to the imagination and technical ambition of not only Brian Hodgson but of his colleagues collectively known as the BBC Radiophonic Workshop."
Eye of Horus 8/10
http://www.eyeofhorus.org.uk/
This is proper first-generation Radiophonics, with the workshop having only the most basic of tools from which to make new sci-fi noises. Here Hodgson used the "Crystal Palace", a clear Perspex box full of electronic circuits and trickery that made interesting simple textures, atmospheres, clangs and ear-splitting oddness – perfect for sliding-door sounds, creeping tensions and machines noises from another world. Sounding somewhere between a musique concrete album and classic minimal experimental electronics from the 60s, this is a really fabulously weird thing, great for the Whovians and anyone else big on strange little plugged-in experiments.
- Record Collector *****
Tracklisting
10" Vinyl Album (SILLP1371)
Delia Derbyshire and the BBC Radiophonic Workshop

- Doctor Who (New Opening Theme, 1967)

Brian Hodgson and the BBC Radiophonic Workshop

- The Learning Hall

Brian Hodgson and the BBC Radiophonic Workshop

- Door Opens

Brian Hodgson and the BBC Radiophonic Workshop

- Entry Into the Machine

Brian Hodgson and the BBC Radiophonic Workshop

- TARDIS (New Landing)

Brian Hodgson and the BBC Radiophonic Workshop

- Wasteland Atmosphere

Brian Hodgson and the BBC Radiophonic Workshop

- Machine and City Theme

Brian Hodgson and the BBC Radiophonic Workshop

- Machine Exterior

Brian Hodgson and the BBC Radiophonic Workshop

- Panels Open

Brian Hodgson and the BBC Radiophonic Workshop

- Dispersal Unit

Brian Hodgson and the BBC Radiophonic Workshop

- Sting

Brian Hodgson and the BBC Radiophonic Workshop

- Selris' House

Brian Hodgson and the BBC Radiophonic Workshop

- Machine Interior

Brian Hodgson and the BBC Radiophonic Workshop

- Snake Bleeps Low

Brian Hodgson and the BBC Radiophonic Workshop

- Silver Hose (The Snake)

Brian Hodgson and the BBC Radiophonic Workshop

- Snake Bleeps High

Brian Hodgson and the BBC Radiophonic Workshop

- Teaching Machine Hums

Brian Hodgson and the BBC Radiophonic Workshop

- Forcefield

Brian Hodgson and the BBC Radiophonic Workshop

- Burning Light

Brian Hodgson and the BBC Radiophonic Workshop

- Birth of a Kroton

Brian Hodgson and the BBC Radiophonic Workshop

- Kroton Theme

Brian Hodgson and the BBC Radiophonic Workshop

- Kroton Dies

Brian Hodgson and the BBC Radiophonic Workshop

- Link - Rising Hum

Brian Hodgson and the BBC Radiophonic Workshop

- Kroton Dies (alternative)
CD Album (SILCD1371)
Delia Derbyshire and the BBC Radiophonic Workshop

- Doctor Who (New Opening Theme, 1967)

Brian Hodgson and the BBC Radiophonic Workshop

- The Learning Hall

Brian Hodgson and the BBC Radiophonic Workshop

- Door Opens

Brian Hodgson and the BBC Radiophonic Workshop

- Entry Into the Machine

Brian Hodgson and the BBC Radiophonic Workshop

- TARDIS (New Landing)

Brian Hodgson and the BBC Radiophonic Workshop

- Wasteland Atmosphere

Brian Hodgson and the BBC Radiophonic Workshop

- Machine and City Theme

Brian Hodgson and the BBC Radiophonic Workshop

- Machine Exterior

Brian Hodgson and the BBC Radiophonic Workshop

- Panels Open

Brian Hodgson and the BBC Radiophonic Workshop

- Dispersal Unit

Brian Hodgson and the BBC Radiophonic Workshop

- Sting

Brian Hodgson and the BBC Radiophonic Workshop

- Selris' House

Brian Hodgson and the BBC Radiophonic Workshop

- Machine Interior

Brian Hodgson and the BBC Radiophonic Workshop

- Snake Bleeps Low

Brian Hodgson and the BBC Radiophonic Workshop

- Silver Hose (The Snake)

Brian Hodgson and the BBC Radiophonic Workshop

- Snake Bleeps High

Brian Hodgson and the BBC Radiophonic Workshop

- Teaching Machine Hums

Brian Hodgson and the BBC Radiophonic Workshop

- Forcefield

Brian Hodgson and the BBC Radiophonic Workshop

- Burning Light

Brian Hodgson and the BBC Radiophonic Workshop

- Birth of a Kroton

Brian Hodgson and the BBC Radiophonic Workshop

- Kroton Theme

Brian Hodgson and the BBC Radiophonic Workshop

- Kroton Dies

Brian Hodgson and the BBC Radiophonic Workshop

- Link - Rising Hum

Brian Hodgson and the BBC Radiophonic Workshop

- Kroton Dies (Alternative)
Download Album (Original Television Soundtrack) (SILED1371)