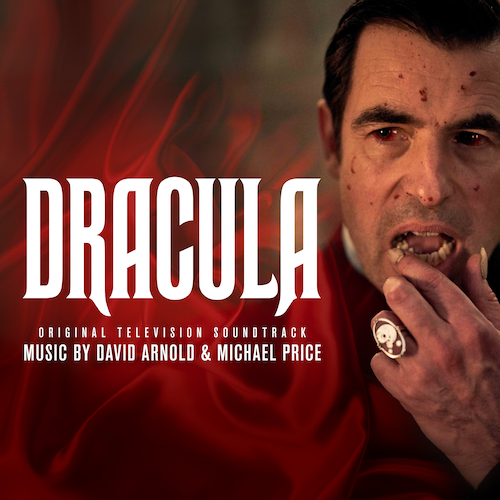 Dracula (Original Television Soundtrack)
Available Formats
Tracks
Price
Buy
CD Album
31 tracks

£

8.99

Download Album (

MP3

)
31 tracks

£

8.99

Download Album (

FLAC

)
31 tracks

£

8.99

Download individual tracks
From £0.99
Description
David Arnold and Michael Price - Dracula (Original Television Soundtrack)
^ Dracula cover (CD version)
From the team behind BBC's critically acclaimed Sherlock comes Dracula, the reimagining of the iconic titular vampire for a 21st Century audience. Composers David Arnold and Michael Price reunite with writers and creators Steven Moffat and Mark Gatiss, to breathe musical life into another famous literary character from Victorian times.
For Dracula, Arnold and Price conceived an innovative and petrifying score, in which traditional instruments and musique concrète merge with contemporary use of samples and sound design. Scoring Dracula presented its own challenges and the composers have augmented the sound of the orchestra players by creating a library of sounds used throughout the score. At the launch of the series at the BFI Southbank, David Arnold said
"We created a bunch of quite awful sounds that were musical, one of which was actual real blood in a glass, with the finger run round the top of the rim... We created percussion things with coffins. The best thing was, I got the sound department to send me all their recordings of screaming babies, and I made an organ out of screaming babies."
Also featured on the score are Cello soloists Tim Gill (London Sinfonietta Principal) and Caroline Dale (Truly, Madly, Deeply, Hilary and Jackie) and Electric Cello from Peter Gregson. The atmospheric music is perfectly complemented by the classical soprano Grace Davidson and jazz singer Sumudu Jayatilaka.
Dracula is a Hartswood Films production, commissioned for BBC One by Charlotte Moore, Director of BBC Content and Piers Wenger, Controller of BBC Drama, and is a co-production with Netflix. Executive producers are Mark Gatiss, Steven Moffat and Sue Vertue for Hartswood Films, Ben Irving for the BBC, Larry Tanz and Carolyn Newman for Netflix. Showing on BBC 1 on January 1st, 2nd and 3rd, the three 90 minute films star Claes Bang stars in the role of Dracula with the cast including John Heffernan, Joanna Scanlan, Dolly Wells, Sacha Dhawan, Jonathan Aris, Morfydd Clark Nathan Stewart-Jarrett, Matthew Beard, Lydia West and Catherine Schell. The series will premiere on BBC One in the UK and on Netflix outside of the UK and Ireland.
Tracklisting
CD Album (SILCD1619)
Download Album (SILED1619)
David Arnold and Michael Price

- Opening Titles

David Arnold and Michael Price

- Mina's Theme

David Arnold and Michael Price

- Contaminated

David Arnold and Michael Price

- Boxes of Undead

David Arnold and Michael Price

- Vague in Parts

David Arnold and Michael Price

- Dracula is God

David Arnold and Michael Price

- Hello Jonny

David Arnold and Michael Price

- Bats are a Little Noisy

David Arnold and Michael Price

- You are Jonathan Harker

David Arnold and Michael Price

- Helsing!

David Arnold and Michael Price

- Greatest of Care

David Arnold and Michael Price

- Sermon

David Arnold and Michael Price

- Clearing Her Throat

David Arnold and Michael Price

- Bad Book

David Arnold and Michael Price

- The Right One

David Arnold and Michael Price

- Make it a Long Voyage

David Arnold and Michael Price

- Learning German

David Arnold and Michael Price

- A Pineapple

David Arnold and Michael Price

- In the Mirror

David Arnold and Michael Price

- Pulsing Jugular

David Arnold and Michael Price

- Fish Meat

David Arnold and Michael Price

- What Kept You

David Arnold and Michael Price

- Sentimental Stalking

David Arnold and Michael Price

- Trying to Contact You

David Arnold and Michael Price

- Undisturbed

David Arnold and Michael Price

- Nothing to Lose

David Arnold and Michael Price

- One Less Thing

David Arnold and Michael Price

- Inside Your head

David Arnold and Michael Price

- Outgrown Beauty

David Arnold and Michael Price

- That is Everything

David Arnold and Michael Price

- The Fear