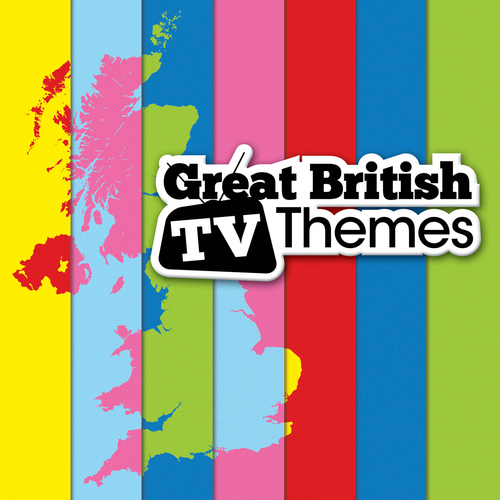 Great British TV Themes
Available Formats
Tracks
Price
Buy
CD Double Album
27 tracks

£

9.99

Out of stock

Download Double Album (

MP3

)
54 tracks

£

11.99

Download Double Album (

FLAC

)
54 tracks

£

11.99

Download individual tracks
From £0.99
Description
Various Artists - Great British TV Themes
A bumper 2 CD, 54 track set of vintage telly tune nostalgia featuring music from an era when British TV promised quality productions, star names and instantly recognisable themes.

The collection spans over half-a-century of classic British TV themes - from the pirate accordion of Captain Pugwash through to Barrington Pheloung's distinctive music for Lewis and covers all elements of the genre, from the deceptive strings of Fawlty Towers to the strident military march of Monty Python's Liberty Bell to the sombre and chilling theme to the WWII documentary series World At War.

Includes worldwide TV smashes Danger Man, The Avengers, The Saint, Man In A Suitcase, The Prisoner, Randall And Hopkirk (Deceased), UFO and The Persuaders, all TV classics still regularly appearing on the screen 40 years later.

Tracklisting
CD Double Album (SILCD1357)
London Music Works

- Captain Pugwash

London Music Works

- Coronation Street

London Music Works

- Steptoe And Son (Old Ned)

The Royal Philharmonic Concert Orchestra

- The Saint

The City of Prague Philharmonic Orchestra

- Fireball

The City of Prague Philharmonic Orchestra

- Dr. Finlay's Casebook

Mark Ayres

- Doctor Who

London Music Works

- Hancock's Tune

The Royal Philharmonic Concert Orchestra

- Danger Man

London Music Works

- The Magic Roundabout

The City of Prague Philharmonic Orchestra

- The Adventures of Robinson Crusoe

The City of Prague Philharmonic Orchestra

- Stingray (vocal)

The Royal Philharmonic Concert Orchestra

- The Avengers

The City of Prague Philharmonic Orchestra

- Thunderbirds

London Music Works

- Man In A Suitcase

The Royal Philharmonic Concert Orchestra

- The Prisoner

The City of Prague Philharmonic Orchestra

- Captain Scarlet / The Mysterons

London Music Works

- Soul Limbo

London Music Works

- Please Sir!

London Music Works

- Yakety Sax

London Music Works

- The Night Rider

The Royal Philharmonic Concert Orchestra

- Randall and Hopkirk (Deceased)

The City of Prague Philharmonic Orchestra

- The Liberty Bell

The City of Prague Philharmonic Orchestra

- UFO

London Music Works

- Match Of The Day

Mark Ayres

- The Persuaders (synth. version)

The City of Prague Philharmonic Orchestra

- The Onedin Line

Download Double Album (SILED1357)