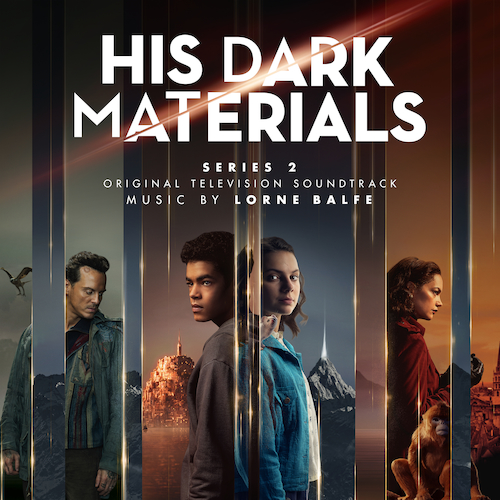 His Dark Materials Series 2 (Original Television Soundtrack)
Available Formats
Tracks
Price
Buy
Download Album (

MP3

)
35 tracks

£

8.99

Download Album (

FLAC

)
35 tracks

£

8.99

CD Album
44 tracks

£

9.99

Download individual tracks
From £0.99
Description
Lorne Balfe - His Dark Materials Series 2 (Original Television Soundtrack)
The much anticipated second series of 'His Dark Materials' scored by Lorne Balfe started airing on BBC One on Sunday 8th November and on HBO in the US on Monday November 16th.

Starring Dafne Keen and Amir Wilson as Lyra and Will, two children on a quest across multiple realities, the new episodes follow on from a successful first season in 2019. As season one was based on the first novel in Phillip Pullman's His Dark Materials trilogy, season two will be based on the second instalment The Subtle Knife.

Lord Asriel (James McAvoy) has opened a bridge to a new world, and, distraught over the death of her best friend, Lyra (Dafne Keen) follows Asriel into the unknown. In a strange and mysterious abandoned city she meets Will (Amir Wilson), a boy from our world who is also running from a troubled past. Lyra and Will learn their destinies are tied to reuniting Will with his father but find their path is constantly thwarted as a war begins to brew around them. Meanwhile, Mrs. Coulter (Ruth Wilson) searches for Lyra, determined to bring her home by any means necessary.

Currently the series is available for streaming on BBC iPlayer (UK), Prime Video (UK), HBO Max (US), Foxtel Now (Australia). Season 1 only, is available to stream on Binge (Australia) and Crave (Canada).

Reviews
"…easily the best episodic tv music I've heard in a very long time …undoubtedly one of the most impressive new scores of the year."
"There's some great music on here… a couple of tracks are really exceptional and there's no doubt that anyone who enjoyed volume 1 should absolutely go and pick this up too… Can't wait for volume 3!" - Movie Wave
"The music is just gorgeous to listen to on its own." - Soundtrack World
"Lorne Balfe's orchestrations give the already grand world of His Dark Materials an even more sumptuous feel, with every faction of characters getting a distinct musical voice." - Ign.com
Tracklisting
Download Album (SILED1636)
CD Album (SILCD1636)
Lorne Balfe

- A Parallel Sky

Lorne Balfe

- Tortured Witch

Lorne Balfe

- Land of Spectres

Lorne Balfe

- He's A Murderer

Lorne Balfe

- Magisterium's New Era

Lorne Balfe

- The Chosen Two

Lorne Balfe

- The Witches' Envoy

Lorne Balfe

- Study The Dark Matter

Lorne Balfe

- Kiss The Ring

Lorne Balfe

- Journey Ahead

Lorne Balfe

- A Once Great City

Lorne Balfe

- O little knife

Lorne Balfe

- Queen of the Southern Lakes

Lorne Balfe

- The Other Side of the Window

Lorne Balfe

- Let's Do It Together

Lorne Balfe

- Matter of Dust

Lorne Balfe

- The Knife will Protect You
Lorne Balfe

- The Key to the Multiverse
Lorne Balfe
- Giacomo Paradisi
Lorne Balfe
- Kaisa Reveal
Lorne Balfe
- Beyond the Aurora
Lorne Balfe
- The Female Scholar
Lorne Balfe
- Fly, Spectres!
Lorne Balfe
- Farewell
Lorne Balfe
- Interdimensional Travelers
Lorne Balfe
- Indomitable Courage
Lorne Balfe
- My Child
Lorne Balfe
- A Mystic Explorer
Lorne Balfe
- I Had A Best Friend
Lorne Balfe
- Lee's Choice
Lorne Balfe
- Beyond The Waterfall
Lorne Balfe
- Fates Intertwined
Lorne Balfe
- The End of Tyranny
Lorne Balfe
- Goodbye Explorer
Lorne Balfe
- The Eve of War
Lorne Balfe
- The Subtle Knife
Lorne Balfe
- Play the Serpent
Lorne Balfe
- Dark Materials: Between the Worlds
Lorne Balfe
- A Spectre's Playground
Lorne Balfe
- A New Cardinal Rises
Lorne Balfe
- The Witch Queen of Lake Lubana
Lorne Balfe
- Children of The Prophecy
Lorne Balfe
- The City In The Sky
Lorne Balfe
- The Shaman