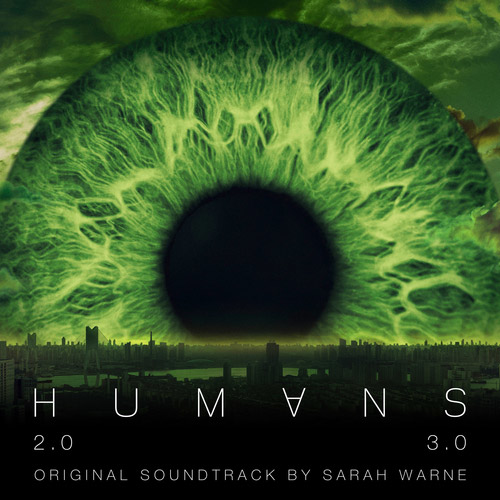 Humans Series 2 & 3 (Original Television Soundtrack)
Available Formats
Tracks
Price
Buy
CD Album
34 tracks

£

8.99

Out of stock

Download Album (

MP3

)
34 tracks

£

8.99

Download Album (

FLAC

)
34 tracks

£

8.99

Download individual tracks
From £0.99
Description
Sarah Warne - Humans Series 2 & 3 (Original Television Soundtrack)
Composer Sarah Warne's narrative electroacoustic soundtrack to the riveting Channel 4 drama.

Humans is a multilayered tragedy set against a familiar near future backdrop. The series explores mankind's ambivalent relationship with fast developing technology and examines race, sex and gender roles. Series 3 starts with a leap, it is exactly one year from Day Zero, the mass Synth awakening that concluded Series 2. Mattie Hawkins' decision to upload the code was immediate and catastrophic resulting in a loss of one hundred thousand humans lives. Clever and high energy, the Humans story line once again revolves around the Hawkins family narrative, weaving in big questions, moral, scientific and political.

Sarah Warne is one of the UK's most exciting emerging young composers, contributing original music to TV scores, film scores and art music, more than 100 projects in total. Films, that she has written music for, have been screened at international festivals including Cannes, Toronto, New York and Berlin. Her art music has also been performed live in various top Venues, in the UK at The Barbican Centre and The Roundhouse. In 2017, Sarah scored the BAFTA nominated Channel 4 True Crime series Catching A Killer, the
feature documentary She's French and hard-hitting BBC documentary Girls On The Edge. Other credits include series 2 of ITV thriller Prey, starring Sean Bean and BBC documentaries, Treasures of Ancient Greece and Kate Adie's Woman of World War One.
Sarah frequently works with Installation artist Rupert Newman. As a duo, they create multi sensory digital installations, which interact with architecture & 3D textile designs. Their work has been exhibited at The Rook & Raven (Soho, London), The House of St. Barnabas (Soho, London), Kricket Pop Up (Brixton, London), TheTramshed (Shoreditch, London), and also in France, Italy, and at Portugal's Boom Festival.
Reviews
The soundtrack to Humans has for me always been one of its USPs, eschewing a regular TV sound for something that feels digital, synthetic and urgent. Following in the original composer's footsteps might have been daunting, but Sarah Warne has taken these foundations and carved out her own sound for the show – here's a great showcase of the breadth and depth of her work. 8/10
Nick Joy - Sci-Fi Bulletin
Tracklisting
CD Album (SILCD1577)
Download Album (SILED1577)
Sarah Warne

- Humans Returns

Sarah Warne

- Digging Deeper

Sarah Warne

- Synthee

Sarah Warne

- Should They Be Born?

Sarah Warne

- Odi Wakens

Sarah Warne

- One Waterfall

Sarah Warne

- Because You Liked Me

Sarah Warne

- Flash

Sarah Warne

- Trial

Sarah Warne

- Seraphim

Sarah Warne

- Do You Love Me?

Sarah Warne

- Cracked The Code

Sarah Warne

- Becoming Reenie

Sarah Warne

- Set You Free

Sarah Warne

- Aftermath

Sarah Warne

- Mia's Sacrifice

Sarah Warne

- A New Beginning

Sarah Warne

- Uprising

Sarah Warne

- Chasm

Sarah Warne

- From The Coast

Sarah Warne

- Betrayed

Sarah Warne

- No-one Leaves

Sarah Warne

- Outfoxing

Sarah Warne

- Seeking Trinity Crescent

Sarah Warne

- No Belonging

Sarah Warne

- Getting Out

Sarah Warne

- I Can't Be A Mother

Sarah Warne

- The Code Changed Everything

Sarah Warne

- Waltringham Wins

Sarah Warne

- Where's Sam

Sarah Warne

- Social Cohesion

Sarah Warne

- Close The Gates

Sarah Warne

- Your Favourite

Sarah Warne

- What Kind Of World Do We Live In?