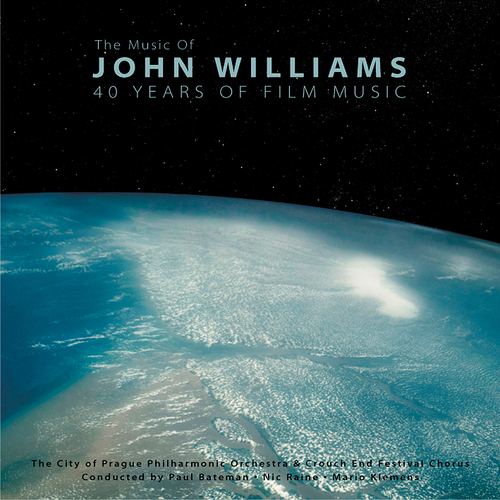 John Williams 40 Years Of Film Music
Available Formats
Tracks
Price
Buy
CD Album
45 tracks

£

15.99

Download Album (

MP3

)
45 tracks

£

15.99

Download Album (

FLAC

)
45 tracks

£

15.99

Download individual tracks
From £0.99
Description
Various Artists - John Williams 40 Years Of Film Music
Featuring 45 Tracks From 36 Blockbuster Films

Performed by:
The City Of Prague Philharmonic & Crouch End Festival Chorus
Conducted by:
Nic Raine, Paul Bateman and Mario Klemens

"No other company produces such consistently fine interpretations of Film Music"
- Total Film

Winner of 5 Academy Awards and nominated to date for an astonishing 41 Oscars, John Williams is one of the most respected contemporary cinema composers and possibly the most famous.

John Williams is best known for his exceptional work with director Steven Spielberg, represented on discs 1 and 2.

Reviews
"This four-discer is a must-have for any fan of the legend's work.."
***** - Total Film
"For soundtrack fans who don't have a Williams compilation, this is the one to procure."
**** - Film Review
Tracklisting
CD Album (TVPMCD810)
CoPP / Klemens

- SUGARLAND EXPRESS | THE

CoPP / Bateman

- JAWS

CoPP / Raine

- CLOSE ENCOUNTERS OF THE THIRD KIND - The Conversation Begins / Main Title / Resolution and Finale

CoPP / Bateman

- RAIDERS OF THE LOST ARK - Raiders Of The Lost Ark

CoPP / Raine

- RAIDERS OF THE LOST ARK - The Map Room / Dawn

CoPP / Klemens

- E.T.-THE EXTRATERRESTRIAL - Adventures on Earth

CoPP / Raine

- INDIANA JONES AND THE TEMPLE OF DOOM - The Mine Car Chase

CoPP / Bateman

- INDIANA JONES AND THE TEMPLE OF DOOM - End Credits

CoPP / Bateman + CEFC / Temple

- EMPIRE OF THE SUN - Exsultate Justi

CoPP / Raine

- INDIANA JONES AND THE LAST CRUSADE - Indy's First Adventure
City of Prague Philharmonic Orchestra / Paul Bateman

- INDIANA JONES AND THE LAST CRUSADE - End Credits
City of Prague Philharmonic Orchestra / Nick Raine
- ALWAYS - Follow Me / Dorinda's Solo Flight
City of Prague Philharmonic Orchestra / Paul Bateman
- HOOK - Main Themes
City of Prague Philharmonic Orchestra / Paul Bateman
- JURASSIC PARK
City of Prague Philharmonic Orchestra / Paul Bateman
- SCHINDLER'S LIST - Orchestral version
City of Prague Philharmonic Orchestra / Paul Bateman + Crouch End Festival Chorus / DavidTemple
- AMISTAD - Dry Your Tears | Afrika
City of Prague Philharmonic Orchestra / Paul Bateman + Crouch End Festival Chorus / DavidTemple
- SAVING PRIVATE RYAN - Hymn To The Fallen
City of Prague Philharmonic Orchestra / Nick Raine
- A.I. - ARTIFICIAL INTELLIGENCE - Where Dreams Are Born
City of Prague Philharmonic Orchestra / Nick Raine
- MINORITY REPORT - Minority Report
City of Prague Philharmonic Orchestra / Nick Raine
- CATCH ME IF YOU CAN
City of Prague Philharmonic / Nic Raine

- RARE BREED | THE - Universal Emblem / Hilary's Plight / Scottish Romeo / The Hunt
City of Prague Philharmonic / Raine
- JANE EYRE - The Jane Eyre Theme
City of Prague Philharmonic / Raine
- JANE EYRE - To Thornfield
City of Prague Philharmonic / Raine
- JANE EYRE - Restoration
City of Prague Philharmonic / Bateman
- COWBOYS | THE - Overture
City of Prague Philharmonic / Raine
- POSEIDON ADVENTURE | THE
City of Prague Philharmonic / Raine
- TOWERING INFERNO | THE
City of Prague Philharmonic / Bateman
- FAMILY PLOT - End Titles
City of Prague Philharmonic / Raine
- FURY | THE
City of Prague Philharmonic / Raine
- SUPERMAN - Main Theme
City of Prague Philharmonic / Raine
- DRACULA - Main Titles & Storm
City of Prague Philharmonic / Raine
- RIVER | THE
City of Prague Philharmonic / Raine
- WITCHES OF EASTWICK | THE - Dance Of The Witches
City of Prague Philharmonic / Bateman

- BORN ON THE FOURTH OF JULY
City of Prague Philharmonic / Raine
- PRESUMED INNOCENT
City of Prague Philharmonic / Raine
- JFK - Arlington / End Titles
City of Prague Philharmonic / Raine
- HARRY POTTER AND THE PHILOSOPHER'S STONE - Hedwig's Theme
City of Prague Philharmonic / Raine
- HARRY POTTER AND THE CHAMBER OF SECRETS - Fawkes The Phoenix
City of Prague Philharmonic / Bateman
- STAR WARS: EPISODE IV - A NEW HOPE - Main Titles
City of Prague Philharmonic / Raine
- STAR WARS: EPISODE V - THE EMPIRE STRIKES BACK - Han Solo and The Princess
City of Prague Philharmonic / Raine
- STAR WARS: EPISODE V - THE EMPIRE STRIKES BACK - The Imperial March
City of Prague Philharmonic / Bateman
- STAR WARS: EPISODE I - THE PHANTOM MENACE - Anakin's Theme
City of Prague Philharmonic / Bateman
- STAR WARS: EPISODE I - THE PHANTOM MENACE - The Flag Parade
City of Prague Philharmonic / Raine
- STAR WARS: EPISODE II - ATTACK OF THE CLONES - Across The Stars
City of Prague Philharmonic / Crouch End Festival Chorus / Bateman
- STAR WARS: EPISODE I - THE PHANTOM MENACE - Duel Of The Fates
Download Album (TVPMCD810)
CoPP / Raine

- CLOSE ENCOUNTERS OF THE THIRD KIND - The Conversation Begins / Main Title / Resolution and Finale
City of Prague Philharmonic Orchestra / Paul Bateman + Crouch End Festival Chorus / DavidTemple
- AMISTAD - Dry Your Tears, Afrika
City of Prague Philharmonic Orchestra / Paul Bateman + Crouch End Festival Chorus / DavidTemple
- SAVING PRIVATE RYAN - Hymn To The Fallen
City of Prague Philharmonic Orchestra / Nick Raine
- A.I. - ARTIFICIAL INTELLIGENCE - Where Dreams Are Born
City of Prague Philharmonic / Raine
- STAR WARS: EPISODE V - THE EMPIRE STRIKES BACK - Han Solo and The Princess
City of Prague Philharmonic / Raine
- STAR WARS: EPISODE V - THE EMPIRE STRIKES BACK - The Imperial March
City of Prague Philharmonic / Raine
- STAR WARS: EPISODE II - ATTACK OF THE CLONES - Across The Stars