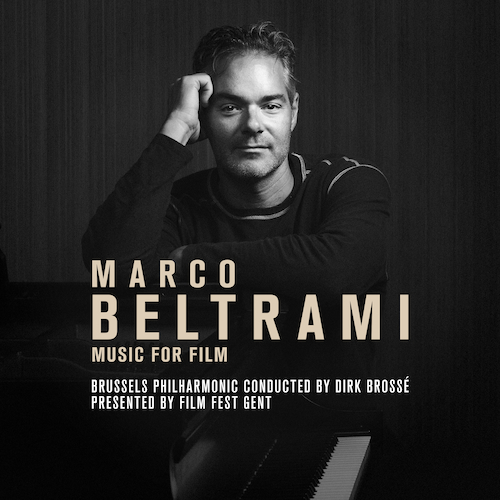 Marco Beltrami - Music For Film
Available Formats
Tracks
Price
Buy
CD Album
10 tracks

£

8.99
Description
Brussels Philharmonic and Marco Beltrami - Marco Beltrami - Music For Film
Marco Beltrami, two-time Oscar nominated is one of the most brilliant film composers of his generation, known for his unique collaborations with some of the world's most respected and iconic filmmakers such as Kathryn Bigelow, James Mangold, Guillermo Del Toro, Wes Craven, Bertrand Tavernier, Tommy Lee Jones and Jean-François Richet.
The acclaimed American composer recently scored the critically-acclaimed box-office hit 'A Quiet Place', which was nominated for a Golden Globe for Best Score and shortlisted for Best Score for the Oscars, 'Velvet Buzzsaw' for Netflix, and National Geographic's 2019 Oscar-winning documentary 'Free Solo'.
Every year since 1982 Film Fest Gent has honoured many of the legends of film composing and this year their spotlight falls on Marco Beltrami. Under the baton of Dirk Brossé, the Brussels Philharmonic perform some of the very best music of Beltrami''s scoring career.

Reviews
"This is a terrific compilation: you can tell how much effort has gone in to make it into a cohesive listen from start to finish… . It would be quite a thing to attend the concert itself, but for those who aren't fortunate enough to have the means to do so, enjoy instead this wonderful album, which offers an intelligently-arranged journey through a fine composer's career. The performance by the Brussels Philharmonic under the redoubtable Dirk Brossé is faultless. This is probably the film music album of 2019 so far." Movie Wave
Marco Beltrami: Music For Film
"Beltrami's fans will no doubt want to pick up this album, as it's one of the most successful from Silva's Ghent series. There's a lot of fabulous music on display here, all of it very well performed and captured for posterity."
- Steven A. Kennedy FSM
Tracklisting
CD Album (SILCD1607)
Brussels Philharmonic and Marco Beltrami

- Scream Suite (From "Scream")

Brussels Philharmonic and Marco Beltrami

- Hellboy Suite (From "Hellboy")

Brussels Philharmonic and Marco Beltrami

- World War Z Suite (From "World War Z")

Brussels Philharmonic and Marco Beltrami

- Chasing the Tail (From "World War Z")

Brussels Philharmonic and Marco Beltrami

- Snowpiercer Suite (From "Snowpiercer")

Brussels Philharmonic and Marco Beltrami

- The Homesman Suite (From "The Homesman")

Brussels Philharmonic and Marco Beltrami

- The Drop End Cue (From "The Drop")

Brussels Philharmonic and Marco Beltrami

- Gods of Egypt Suite (From "Gods of Egypt")

Brussels Philharmonic and Marco Beltrami

- A Quiet Place (From "A Quiet Life")

Brussels Philharmonic and Marco Beltrami

- Final Climb (From "Free Solo")