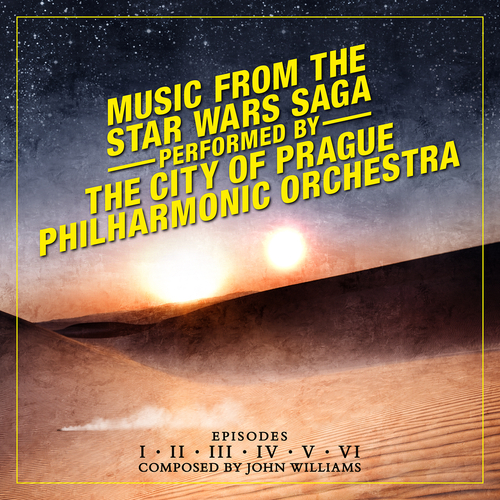 Music from the Star Wars Saga
Available Formats
Tracks
Price
Buy
CD Album
15 tracks

£

8.99

Out of stock

Download Album (

MP3

)
15 tracks

£

7.99

Download Album (

FLAC

)
15 tracks

£

7.99

Download individual tracks
From £0.99
Description
The City of Prague Philharmonic Orchestra - Music from the Star Wars Saga
Released to celebrate May 4th Star Wars Day and the mounting excitement for the December release of Star Wars Episode VII: The Force Awakens. This compilation brings together selections from all six Star Wars films featuring John William's towering and epic scores performed by the renowned City Of Prague Philharmonic Orchestra. Highlights include The Imperial March , Forest Battle, Duel Of The Fates and The Throne Room/Finale, the latter the masterful ending to the original 1977 Star Wars and the Oscar winner for best score.
Reviews
"...a top selection..."
"The Prague Phil's 'Duel of the Fates' lacks the choral strength of numbers but compensates by featuring some noticeably pronounced percussion compared to the London Symphony Orchestra's original. It adds an interesting new bite and fury that evokes the clash of lightsaber on lightsaber on super-awesome double-edged lightsaber."
"The Prague Philharmonic are on top form here, with particularly impressive performances of the 'Main Theme' (vitally important to get that right) and 'Anakin's Theme', as well as jolly rendition of the 'Cantina Band' tune that would give Figrin D'an and The Modal Nodes a run for their credits."
- Cultbox *****
"...recorded by the reliable CoPPO... Distinguishing Features: The excellent if sometimes off-tempo 'The Throne Room', the beautiful 'Princess Leia' and 'Across The Stars'. The lovely 'Anakin's Theme'."
- Films On Wax
Tracklisting
CD Album (SILCD1479)
Download Album (SILED1479)
The City of Prague Philharmonic Orchestra

- Main Titles (From "Star Wars: A New Hope")

London Music Works

- Cantina Band (From "Star Wars: A New Hope")

The City of Prague Philharmonic Orchestra

- Princess Leia (From "Star Wars: A New Hope")

The City of Prague Philharmonic Orchestra

- The Throne Room / Finale (From "Star Wars: A New Hope")

The City of Prague Philharmonic Orchestra

- The Imperial March (From "Star Wars: The Empire Strikes Back")

The City of Prague Philharmonic Orchestra

- Han Solo and the Princess (From "Star Wars: The Empire Strikes Back")

The City of Prague Philharmonic Orchestra

- The Asteroid Field (From "Star Wars: The Empire Strikes Back")

The City of Prague Philharmonic Orchestra

- Yoda's Theme (From "Star Wars: The Empire Strikes Back")

The City of Prague Philharmonic Orchestra

- Forest Battle (From "Star Wars: Return Of The Jedi")

The City of Prague Philharmonic Orchestra

- Anakin's Theme (From "Star Wars: The Phantom Menace")

The City of Prague Philharmonic Orchestra

- The Flag Parade (From "Star Wars: The Phantom Menace")

The City of Prague Philharmonic Orchestra

- The Adventures of Jar Jar (From "Star Wars: The Phantom Menace")

The City of Prague Philharmonic Orchestra

- Duel of the Fates (From "Star Wars: The Phantom Menace")

The City of Prague Philharmonic Orchestra

- Across the Stars (From "Star Wars: Attack Of The Clones")

The City of Prague Philharmonic Orchestra

- Battle of the Heroes (From "Star Wars: Revenge Of The Sith")