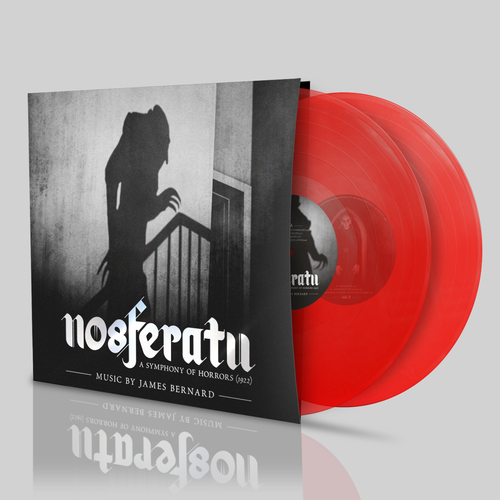 Nosferatu: Channel 4 Silents soundtrack
Available Formats
Tracks
Price
Buy
12" Vinyl Album
14 tracks

£

22.99
Description
The City of Prague Philharmonic Orchestra - Nosferatu: Channel 4 Silents soundtrack
DLP on Transparent Red Vinyl
Foil Blocked Gatefold Sleeve



Still one of the most highly regarded horror films of all time, F.W. Murnau's unauthorised adaptation of Bram Stoker's Dracula, Nosferatu (1922), is an Expressionist masterpiece of the silent era. Much of the original score by Hans Erdmann (meant to be played live by an orchestra) was lost, leading Nosferatu to inspire several subsequent soundtracks, the best known of which is by Hammer Horror composer James Bernard, initially commissioned by Silva Screen Records for the Tanis Film video reissue of the film. The reissue of this print never came to light, however, and the score was finally married to the film in Photoplay Productions' and the BFI's release in 1997. The world premiere of the score was performed by Nic Raine and the City of Prague Philharmonic Orchestra at the London Film Festival presented as part of the Channel 4 Silents season the same year and now, almost twenty years later, the score is being pressed on vinyl for the first time.
Tracklisting
12" Vinyl Album (SILLP192)
The City of Prague Philharmonic Orchestra

- Overture - Omens of Nosferatu

The City of Prague Philharmonic Orchestra

- Hutter and Ellen

The City of Prague Philharmonic Orchestra

- Ellen's Disquiet

The City of Prague Philharmonic Orchestra

- Journey to Orlok's Castle
The City of Prague Philharmonic Orchestra

- In the Castle
The City of Prague Philharmonic Orchestra
- Ellen Sleep-Walks
The City of Prague Philharmonic Orchestra
- Hutter's Discovery
The City of Prague Philharmonic Orchestra

- Loading the Coffins
The City of Prague Philharmonic Orchestra
- Ellen By the Seashore
The City of Prague Philharmonic Orchestra
- The Ship of Doom
The City of Prague Philharmonic Orchestra
- Orlok's Lair
The City of Prague Philharmonic Orchestra

- The Plague
The City of Prague Philharmonic Orchestra
- The Pursuit of Knock
The City of Prague Philharmonic Orchestra
- The Power of Orlok / the Death of Ellen