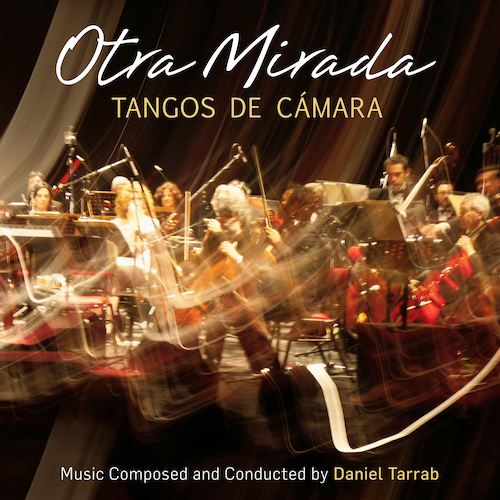 Otra Mirada - Tangos de Camara
Available Formats
Tracks
Price
Buy
Download Album (

MP3

)
8 tracks

£

7.99

Download Album (

FLAC

)
8 tracks

£

7.99

Download individual tracks
From £0.99
Description
Daniel Tarrab - Otra Mirada - Tangos de Camara
From Award Winning film composer Daniel Tarrab, comes a fresh and innovative, jazz-influenced, Tango album.
Performed by Nestor Marconi (Bandoneon), Pablo Agri (Violin), Daniel Tarrab (Piano / Contrabass) and string
orchestra comprised from the members of Orquesta Filarmonica Nacional.
Aptly naming the album Otra Mirada (Another Look), Tarrab carefully avoids the powerful musical influence of
the unforgettable Piazzolla. Composing 8 original Tangos in song format and preserving the passion of the style,
Tarrab is also bringing in the influence of Jazz through harmonies. His dramatic, modern interpretation of Tango
stems from the music form's constant evolution. Otra Mirada is written as concert music that is open
to improvisation and local influences.
Daniel Tarrab was born in Buenos Aires, Argentina. He studied Music Composition at the Catholic University of
Argentina (UCA) and Film Composition at The Berklee College of Music, in Boston, Massachusetts (USA). In
the 2000s Daniel established himself as a film composer. Known for the Broken Silence Series (produced by Steven
Spielberg in 2002) and The Whore and the Whale (2004), in 2007 Tarrab won the World Soundtrack Awards Discovery
of the year for the Cannes Film awarded XXY. He is also a recipient of several other awards from the Academy of
film of Argentina-Gran premio SADAIC for Film Music (society of Argentinean Composers).
One of the great musicians of the 70s, Nestor Marconi is a leading player of the bandoneón, the small
accordionlike instrument that is a prominent part of the traditional sound of the Argentine tango.
Since the 90s, he has joined the international classical music circuit as a soloist
performing pieces from the bandoneon and orchestra repertoire such as the "Concert by Bandoneón" or the
"Tres Tangos" by Astor Piazzolla. He has appeared on the stages throughout Europe and USA, as well as at the
Teatro Colón in Buenos Aires and has performed with leading classical music artists Gidon Kremer, Daniel
Barenboim, Yo-Yo Ma, and Charles Dutoit on Tango crossover projects. Currently, Marconi is the leader of his own
tango trio with Leonardo Marconi on piano and Oscar Giunta on bass.
Son of Antonio Agri, Pablo Agri, like his father is a leading violinist of the Tango genre. Focusing early on classical
violin studies, Pablo developed his own style. He has been a member of the National Symphony Orchestra since
1992, he took classes with maestro Szymsia Bajour and was awarded a scholarship by the Antorchas Foundation
to study at the Conservatorio Edgard Varese, in France, with maestro Ami Flammer, obtaining the Premier Prix
in July 1997. He has also worked with the best Tango musicians, from Mariano Mores to Horacio Salgán through
Néstor Marconi, Susana Rinaldi and Osvaldo Berlingieri.
Reviews
"Tarrab's concept album is an enjoyable diversion full of engaging melodies, exciting playing from the soloists, and lush string backing." *** 1/2
- FSM Online