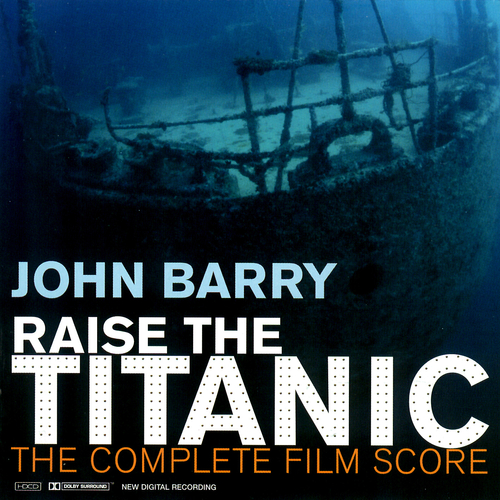 Raise The Titanic
Available Formats
Tracks
Price
Buy
Download Album (

MP3

)
15 tracks

£

7.99

Download Album (

FLAC

)
15 tracks

£

7.99

CD Album
15 tracks

£

5.99

Out of stock

Download individual tracks
From £0.99
Description
John Barry - Raise The Titanic
The world premiere recording of the complete score from the Lord Grade Film starring Jason Robards, Richard Jordan, David Selby, Anne Archer and Alec Guinness. Raise The Titanic was filmed in 1980, and although expensively mounted, at an estimated $40 Million, the production retrieved only $7 Million in receipts on its initial release.

The dismal box-office response, fuelled by universally poor critical reaction, seems justified; the film, despite being ambitious and professional, failed to ignite the explosive elements of the original novel by Clive Cussler.

However, composer John Barry's elegant music for Raise The Titanic has cruised on to plaudits and kudos, his musical score recognised as a prime example of the film composer's art.

Over the past 19 years, Raise The Titanic has not only been one of the most requested of John Barry's unrecorded scores, but one of the most requested scores of all time.


Reviews
"Overall this is an extremely well produced, and thoroughly listenable representation of one of Barry's finest scores with accurate interpretation, smooth performance, and sumptuous sound. Classy CD presentation includes superb notes from David Wishart which feature a cue by cue synopsis of both film and score. It was worth the wait."
- Music From The Movies
Tracklisting
Download Album (FILMED319)
CD Album (FILMCD319)
John Barry

- Prelude

John Barry

- Main Title / The Mine Shaft

John Barry

- The Sicilian Project / Dog Attack

John Barry

- The Sicilian Defence / Southby / The Mountain Comes To Us

John Barry

- We're In Business

John Barry

- To Cornwall / All That's Left (Memories Of The Titanic)

John Barry

- Deep Quest / Flood!

John Barry

- Finding The Cornet / Spy On Board / The Smoke Stack

John Barry

- The Titanic Uncovered

John Barry

- Gene Explores The Titanic / Deep Quest Trapped

John Barry

- Rescue Attempt / Blowing The Tanks

John Barry

- Raise The Titanic / Deep Quest Saved

John Barry

- Memories Of The Titanic

John Barry

- Russian Threat / The Titanic Enters New York Harbor

John Barry

- Thank God For Southby" / In The Graveyard / End Titles