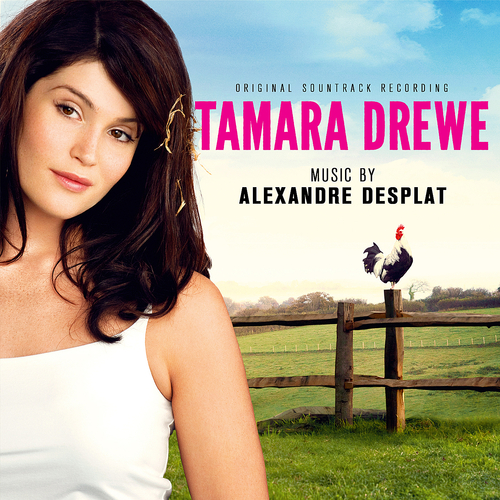 Tamara Drewe
Available Formats
Tracks
Price
Buy
Download Album (

MP3

)
19 tracks

£

7.99

Download Album (

FLAC

)
19 tracks

£

7.99

CD Album
19 tracks

£

8.99

Out of stock

Download individual tracks
From £0.99
Description
Alexandre Desplat - Tamara Drewe
Alexandre Desplat's spirited score to Stephen Frears' humorous and romantic film based on Posy Simmonds' well-loved graphic novel.

In Tamara Drewe, Desplat's animated contemporary orchestral score is driven by tuned percussion leitmotifs. It leads the story and underwrites the pauses between the action, enabling the film's narrative to skip from darker to lighter moments. There's an energy driven by the dramaturgy, the choral structure of the characters, and the dark humour of the film.

Desplat comments "I let the audience appreciate the moments of emotion… Leave space for the acting moments and the strong emotional moments to be by themselves, without pushing with the music".

Inspired by Thomas Hardy's Far From the Madding Crowd, Tamara Drewe started life as a cartoon series in the Review section of the Guardian in 2005, gently satirising the English middle classes.

Starring British stars Gemma Arterton, Dominic Cooper, Tamsin Greig and Luke Evans, the film opened in UK cinemas in September 2010.

Alexandre Desplat is one of the foremost film composers working today. After composing the music for over 50 European films, Desplat made his mark in Hollywood with Girl With A Pearl Earring and success followed with three Academy Award nominations, The Queen, The Curious Case Of Benjamin Button and Fantastic Mr. Fox. His recent projects have included The Prophet and The Twilight Saga: New Moon and Harry Potter And The Deathly Hallows (Part 1).

Reviews
"...a playful score that reflects both the dark humour of Stephen Frear's film and the beauty of its surroundings."
****- Total Film
"Desplat recalls the heyday of Henry Mancini's comedy ethic without sounding dated… One listen and you are rapt."
- The Examiner
"…light, whimsical, and delightful to listen to."
- **** Read Junk
Tracklisting
Download Album (SILED1344)
CD Album (SILCD1344)
Alexandre Desplat

- Opening Title

Alexandre Desplat

- Going To Nadia

Alexandre Desplat

- I Need A Dump

Alexandre Desplat

- Alarm At Winnards

Alexandre Desplat

- Tamara

Alexandre Desplat

- A Good Time

Alexandre Desplat

- Biggest Shagging

Alexandre Desplat

- Mushrooms

Alexandre Desplat

- Jody And Ben

Alexandre Desplat

- Dog And Cows

Alexandre Desplat

- Beth's Monologue

Alexandre Desplat

- Winnards Farm

Alexandre Desplat

- Nicholas And Tamara

Alexandre Desplat

- Spring

Alexandre Desplat

- Is She Dead?

Alexandre Desplat

- Packing And Closing

Swipe

- Where Are You Now?

Swipe

- This Is A Low

Dominic Cooper

- Jail-bait Jody