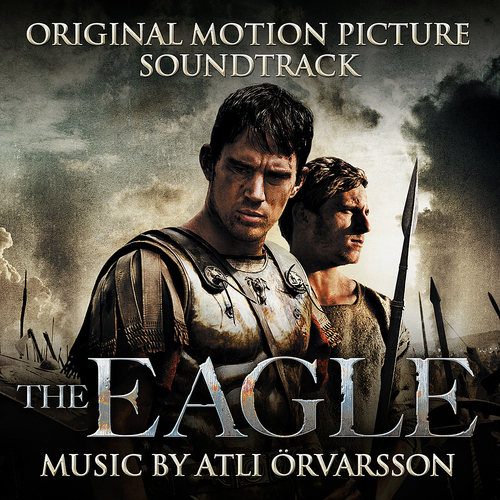 The Eagle
Available Formats
Tracks
Price
Buy
CD Album
18 tracks

£

7.99

Out of stock

Download Album (

MP3

)
18 tracks

£

7.99

Download Album (

FLAC

)
18 tracks

£

7.99

Download individual tracks
From £0.99
Description
Atli Örvarsson - The Eagle
Composer Atli Örvarsson's epic and exciting Celtic-flavored score to Kevin Macdonald's Roman adventure.

Based on Rosemary Sutcliff's classic novel The Eagle of the Ninth, the story is set in 2nd-Century Britain and follows two men on their dangerous and obsessive quest to solve the unexplained disappearance of the entire Ninth Legion in Scotland. Starring Channing Tatum, Jamie Bell and Donald Sutherland.

Atli Örvarsson is rapidly joining the ranks of Hollywood's most dynamic young film composers. His recent film scores include Season of the Witch, The Code, Vantage Point and Babylon A.D.

In 2006, Örvarsson joined Hans Zimmer's state-of-the-art musical "think tank" Remote Control Productions where he collaborated with Zimmer on several scores, including Pirates of the Caribbean: At World's End, Angels & Demons, The Simpsons Movie, and The Holiday.

As winner of the renowned Pete Carpenter Fellowship for young composers, Atli moved to Los Angeles in 1998 to join Mr. Post's team as composer and orchestrator on all three Law and Order series and NYPD Blue.

Tracklisting
CD Album (SILCD1359)
Atli Örvarsson

- Testudo

Atli Örvarsson

- Highlands

Atli Örvarsson

- The Return Of The Eagle

Atli Örvarsson

- The Ninth Legion

Atli Örvarsson

- North of the Wall

Atli Örvarsson

- Honourable Discharge

Atli Örvarsson

- Out Swords!

Atli Örvarsson

- May Your Souls Take Flight

Atli Örvarsson

- The Seal People

Atli Örvarsson

- Searching

Atli Örvarsson

- Barbarians

Atli Örvarsson

- I Will Return

Atli Örvarsson

- Better Angry Than Dead

Atli Örvarsson

- Eagle Lost, Honour Lost

Atli Örvarsson

- Fleeing The Village

Atli Örvarsson

- Edge of the World

Atli Örvarsson

- Esca's Freedom

Atli Örvarsson

- Beyond The Territories
Download Album (SILED1359)