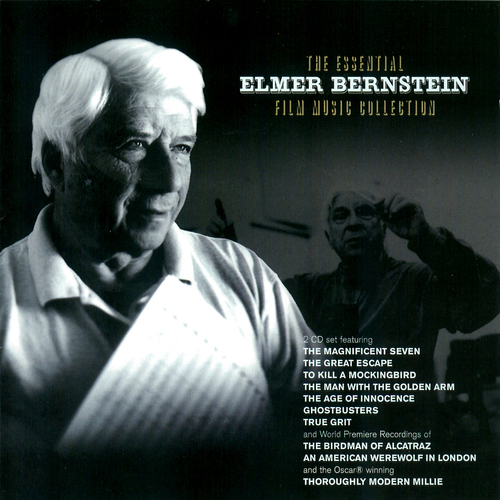 The Essential Elmer Bernstein Film Music Collection
Available Formats
Tracks
Price
Buy
Download Album (

MP3

)
26 tracks

£

7.99

Download Album (

FLAC

)
26 tracks

£

7.99

CD Double Album
26 tracks

£

8.99

Out of stock

Download individual tracks
From £0.99
Description
Various Artists - The Essential Elmer Bernstein Film Music Collection
Over 110 minutes of some of the greatest film music in the history of cinema.
Digital recordings by the acclaimed City Of Prague Philharmonic Orchestra and National Youth Jazz Band

Includes world premiere recordings from The Birdman Of Alcatraz, Thoroughly Modern Millie, Airplane! and An American Werewolf In London

In 2004 the world of cinema lost one of the most iconic figures in film composing. In a career that spanned half-a-century and over 250 films, Elmer Bernstein was responsible for writing the music to many of the greatest and most loved movies of all time ranging from The Ten Commandments, The Magnificent Seven and The Great Escape, through to True Grit and Airplane! This collection has been lovingly created and compiled as a tribute to a genius and true master of the art of film scoring.

Reviews
"...Bernstein fans will be in Seventh Heaven."
*****- Film Review
"Thoroughly polished and worthwhile, it comes with an informative booklet."
****- Total DVD
"Exemplary."
*****- Uncut
Tracklisting
Download Album (SILED1178)
City of Prague Philharmonic / Paul Bateman

- TRUE GRIT - Rooster and LeBoeuf / Runaway / Warm Wrap-up
City of Prague Philharmonic Orchestra + Crouch End Festival Chorus / Nic Raine
- The Hallelujah Trail - Overture
CD Double Album (SILCD1178)
City of Prague Philharmonic / James Fitzpatrick

- MAGNIFICENT SEVEN | THE

City of Prague Philharmonic / James Fitzpatrick

- TO KILL A MOCKINGBIRD - Suite

City of Prague Philharmonic / Paul Bateman

- BUCCANEER | THE - Prelude

NY Jazz Orchestra

- WALK ON THE WILD SIDE

City of Prague Philharmonic / James Fitzpatrick

- AMERICAN WEREWOLF IN LONDON - Metamorphosis

City of Prague Philharmonic / James Fitzpatrick

- AGE OF INNOCENCE | THE - End Titles

City of Prague Philharmonic / Nic Raine

- COMANCHEROS | THE - McBain / Main Title

City of Prague Philharmonic / Nic Raine

- GHOSTBUSTERS - Main Theme

City of Prague Philharmonic / Nic Raine

- HEAVY METAL - Taarna's Theme

Daniel Caine Orchestra

- JOHNNY STACCATO

City of Prague Philharmonic / Paul Bateman

- TRUE GRIT - Rooster and LeBoeuf / Runaway / Warm Wrap-up

City of Prague Philharmonic / Nic Raine

- HOLLYWOOD AND THE STARS

City of Prague Philharmonic / Nic Raine

- ZULU DAWN - River Crossing
City of Prague Philharmonic / James Fitzpatrick

- The Great Escape
NY Jazz Orchestra
- The Man With The Golden Arm
City of Prague Philharmonic / James Fitzpatrick
- Far From Heaven
City of Prague Philharmonic Orchestra /Paul Bateman
- The Sons Of Katie Elder
City of Prague Philharmonic Orchestra / Nic Raine
- Airplane
City of Prague Philharmonic Orchestra / Nic Raine
- The Shootist - Main Title
City of Prague Philharmonic / James Fitzpatrick
- Hawaii - Overture
City of Prague Philharmonic / James Fitzpatrick
- The Birdman Of Alcatraz - Finale
City of Prague Philharmonic Orchestra + Crouch End Festival Chorus / Nic Raine
- The Hallelujah Trail - Overture
City of Prague Philharmonic Orchestra /Paul Bateman
- The Bridge At Remagen
City of Prague Philharmonic / James Fitzpatrick
- Thoroughly Modern Millie - Sky-Hi
City of Prague Philharmonic Orchestra / Nic Raine
- The Scalphunters - Main Title
The City of Prague Philharmonic / James Fitzpatrick
- The Ten Commandments - Overture