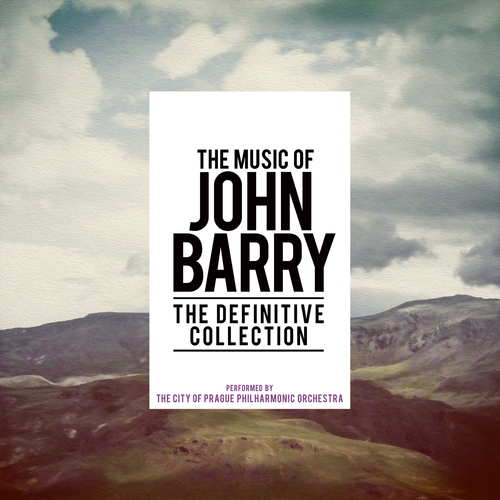 The Music of John Barry : The Definitive Collection
Available Formats
Tracks
Price
Buy
CD Boxed Set
119 tracks

£

18.99

Download Boxed Set (

FLAC

)
119 tracks

£

17.99

Download Boxed Set (

MP3

)
119 tracks

£

17.99

Download individual tracks
From £0.99
Description
Various Artists - The Music of John Barry : The Definitive Collection
A stunning collection of music from an icon of cinema. Silva Screen has long been an archive for the genius of John Barry, hunting down missing cues and scores from his 100 plus film compositions that have never previously appeared on CD. This 6 CD set greatly expands that repertoire with 119 tracks from 68 film and TV productions ranging from Juke Box Jury in 1959 to his swansong Enigma in 2001.

John Barry Prendergast OBE remains Britain's greatest film composer with a career spanning over half-acentury featuring some of the greatest scores ever written. Barry has won an Oscar for for Born Free, The Lion In Winter, Out Of Africa and Dances With Wolves and has also written scores for the legendary 11 James Bond scores as well as countless other epic themes such as Zulu, The Ipcress File and Midnight Cowboy.
Performed by The City Of Prague Philharmonic Orchestra and London Music Works.
Tracklisting
CD Boxed Set (SILCD1445)
London Music Works

- Hit and Miss (From "Juke Box Jury")

London Music Works

- Beat Girl (From "Beat Girl")

London Music Works

- Never Let Go (From "Never Let Go")

London Music Works

- Beat for Beatniks

The City of Prague Philharmonic Orchestra

- The Girl With The Sun In Her Hair

London Music Works

- The James Bond Theme (From "Dr. No")

The City of Prague Philharmonic Orchestra

- 007 (From "From Russia With Love")

London Music Works

- Goldfinger (From "Goldfinger")

The City of Prague Philharmonic Orchestra

- Dawn Raid At Fort Knox (From "Goldfinger")

The City of Prague Philharmonic Orchestra

- Theme / Isandhlwana (From "Zulu")

The City of Prague Philharmonic Orchestra

- Titles / News of the Massacre / Rorke's Drift Threatened (From "Zulu")

The City of Prague Philharmonic Orchestra

- Bromhead's Safari / Wagons Over (From "Zulu")

The City of Prague Philharmonic Orchestra

- "You're All Going To Die" (From "Zulu")

The City of Prague Philharmonic Orchestra

- First Zulu Appearance and Assault (From "Zulu")

The City of Prague Philharmonic Orchestra

- Durnford's Horses Arrive and Depart / The Third Assault (From "Zulu")

The City of Prague Philharmonic Orchestra

- Zulu's Final Appearance and Salute (From "Zulu")

The City of Prague Philharmonic Orchestra

- "Men of Harlech" / End Title (From "Zulu")

The City of Prague Philharmonic Orchestra

- Main Title / The Kidnap / The Ransom / End Title (From "Séance On A Wet Afternoon")

The City of Prague Philharmonic Orchestra

- Thunderball (From "Thunderball")

The City of Prague Philharmonic Orchestra

- Fight On The Disco Volante / Finale (From "Thunderball")

The City of Prague Philharmonic Orchestra

- A Man Alone (From "The Ipcress File")

The City of Prague Philharmonic Orchestra

- The Knack…..And How To Get It
The City of Prague Philharmonic Orchestra

- King Rat (From "King Rat")
The City of Prague Philharmonic Orchestra
- Main Title / Moses in the River / An Elephant called Emily / The Dam / "What Would I Do For laughs" (From "Mister Moses")
The City of Prague Philharmonic Orchestra
- Born Free (From "Born Free")
The City of Prague Philharmonic Orchestra
- The Wrong Box (From "The Wrong Box")
The City of Prague Philharmonic Orchestra
- The Chase (From "The Chase")
The City of Prague Philharmonic Orchestra
- Wednesday's Child (From "The Quiller Memorandum")
The City of Prague Philharmonic Orchestra
- You Only Live Twice (From "You Only Live Twice")
The City of Prague Philharmonic Orchestra
- The Wedding / James Bond Averts WW3 / Capsule In Space (From "You Only Live Twice")
The City of Prague Philharmonic Orchestra
- The Lion In Winter (From "The Lion In Winter")
The City of Prague Philharmonic Orchestra
- Allons Gai Gai (From "The Lion In Winter")
The City of Prague Philharmonic Orchestra
- Richard's Joust / Geoffrey's Battle (From "The Lion In Winter")
The City of Prague Philharmonic Orchestra
- Chinon / Eleanor's Arrival (From "The Lion In Winter")
The City of Prague Philharmonic Orchestra
- Fanfare for Philip / The Great Hall Feast (From "The Lion In Winter")
The City of Prague Philharmonic Orchestra
- We're All Jungle Creatures (From "The Lion In Winter")
The City of Prague Philharmonic Orchestra
- Romance for Guitar and Orchestra (From "Deadfall")
The City of Prague Philharmonic Orchestra
- Escape From Piz Gloria / The Ski Chase (From "On Her Majesty's Secret Service")
The City of Prague Philharmonic Orchestra
- We Have All The Time In The World (From "On Her Majesty's Secret Service")
The City of Prague Philharmonic Orchestra

- Midnight Cowboy (From "Midnight Cowboy")
The City of Prague Philharmonic Orchestra
- The Appointment (From "The Appointment")
The City of Prague Philharmonic Orchestra
- The Last Valley Main Titles Part 1 (From "The Last Valley")
The City of Prague Philharmonic Orchestra
- Entry into The Last Valley (From "The Last Valley")
The City of Prague Philharmonic Orchestra
- An Evening Song (From "The Last Valley")
The City of Prague Philharmonic Orchestra
- Vogel's Dream / The Last Valley (From "The Last Valley")
The City of Prague Philharmonic Orchestra
- A Christmas Song (From "The Last Valley")
The City of Prague Philharmonic Orchestra
- Death Of Captain / End Title (From "The Last Valley")
The City of Prague Philharmonic Orchestra
- The Last Valley - Main Titles Part 2 (From "The Last Valley")
The City of Prague Philharmonic Orchestra
- The Good Times are Comin' / Sit Him High / Death of Martine (From "Monte Walsh")
London Music Works
- Diamonds Are Forever (From "Diamonds Are Forever")
The City of Prague Philharmonic Orchestra
- Mr. Kidd And Mr. Wint / Moon Buggy Ride (From "Diamonds Are Forever")
The City of Prague Philharmonic Orchestra
- Walkabout (From "Walkabout")
The City of Prague Philharmonic Orchestra
- The Children (From "Walkabout")
The City of Prague Philharmonic Orchestra
- Stranded (From "Walkabout")
The City of Prague Philharmonic Orchestra
- Night in the Outback (From "Walkabout")
The City of Prague Philharmonic Orchestra
- Survival Test / The Journey (From "Walkabout")
The City of Prague Philharmonic Orchestra
- The Three of Us (From "Walkabout")
The City of Prague Philharmonic Orchestra
- Together at Sunrise (From "Walkabout")
The City of Prague Philharmonic Orchestra
- The Deserted Settlement / The Final Dance (From "Walkabout")
The City of Prague Philharmonic Orchestra
- Back to Nature (From "Walkabout")
The City of Prague Philharmonic Orchestra

- Vivre Et Mourir (From "Mary, Queen Of Scots")
The City of Prague Philharmonic Orchestra
- Elizabeth's Ride (From "Mary, Queen Of Scots")
The City of Prague Philharmonic Orchestra
- Main Theme (From "Mary, Queen Of Scots")
The City of Prague Philharmonic Orchestra
- Not Through My Realm (From "Mary, Queen Of Scots")
The City of Prague Philharmonic Orchestra
- Mary And Darnley (From "Mary, Queen Of Scots")
The City of Prague Philharmonic Orchestra
- This Way Mary - Mary's Theme (From "Mary, Queen Of Scots")
Mark Ayres
- The Persuaders (synth. version)
The City of Prague Philharmonic Orchestra
- Main Title / The Game's Afoot (From "They Might Be Giants")
The City of Prague Philharmonic Orchestra
- Alice's Adventures In Wonderland (From "Alice's Adventures In Wonderland")
The City of Prague Philharmonic Orchestra
- The Man With The Golden Gun (From "The Man With The Golden Gun")
The City of Prague Philharmonic Orchestra
- Slow Boat From China / Nick Nack / The Man With The Golden Gun (From "The Man With The Golden Gun")
The City of Prague Philharmonic Orchestra
- Main Theme / Hitchhike to Darwin / Sail the Summer Winds (From "The Dove")
The City of Prague Philharmonic Orchestra
- Play It Again (From "The Tamarind Seed")
The City of Prague Philharmonic Orchestra
- Love Among The Ruins (From "Love Among The Ruins")
The City of Prague Philharmonic Orchestra
- Robin And Marian (From "Robin And Marian")
The City of Prague Philharmonic Orchestra
- The Ride to Sherwood / The Ride to Nottingham (From "Robin And Marian") [Film Version]
The City of Prague Philharmonic Orchestra
- First Love Theme (From "Robin And Marian")
The City of Prague Philharmonic Orchestra
- Second Love Theme (From "Robin And Marian")
The City of Prague Philharmonic Orchestra
- John Bursts In / The End (From "Robin And Marian")
The City of Prague Philharmonic Orchestra
- Prelude and Love Theme (From "King Kong")
The City of Prague Philharmonic Orchestra
- Eleanor And Franklin (From "Eleanor And Franklin")
The City of Prague Philharmonic Orchestra
- The Deep (From "The Deep")
The City of Prague Philharmonic Orchestra

- Main Title / Love Theme (From "The Betsy")
The City of Prague Philharmonic Orchestra
- Moonraker (From "Moonraker")
The City of Prague Philharmonic Orchestra
- Flight Into Space (From "Moonraker")
The City of Prague Philharmonic Orchestra
- The Black Hole (From "The Black Hole")
The City of Prague Philharmonic Orchestra
- Hanover Street (From "Hanover Street")
The City of Prague Philharmonic Orchestra
- The Corn Is Green (From "The Corn Is Green")
The City of Prague Philharmonic Orchestra
- Raise The Titanic Prelude (From "Raise The Titanic")
The City of Prague Philharmonic Orchestra
- Main Title / The Mine Shaft (From "Raise The Titanic")
The City of Prague Philharmonic Orchestra
- To Cornwall / All That's Left (Memories Of The Titanic) [From "Raise The Titanic"]
The City of Prague Philharmonic Orchestra
- The Titanic Uncovered (From "Raise The Titanic")
The City of Prague Philharmonic Orchestra
- Raise The Titanic / Deep Quest Saved (From "Raise The Titanic")
The City of Prague Philharmonic Orchestra
- Memories Of The Titanic (From "Raise The Titanic")
The City of Prague Philharmonic Orchestra
- Somewhere in Time (From "Somewhere In Time")
The City of Prague Philharmonic Orchestra
- Body Heat (From "Body Heat")
The City of Prague Philharmonic Orchestra
- Frances (From "Frances")
The City of Prague Philharmonic Orchestra
- Hammett (From "Hammett")
The City of Prague Philharmonic Orchestra
- All Time High (From "Octopussy")
The City of Prague Philharmonic Orchestra
- Bond Meets Octopussy / Bond Lookalike / The Palace Fight (From "Octopussy")
The City of Prague Philharmonic Orchestra

- Love Theme and End Title (From "High Road To China")
The City of Prague Philharmonic Orchestra
- The Cotton Club (From "The Cotton Club")
The City of Prague Philharmonic Orchestra
- Until September (From "Until September")
The City of Prague Philharmonic Orchestra
- Wine With Stacey / Fanfare / Snow Job (From "A View To A Kill")
The City of Prague Philharmonic Orchestra
- Out of Africa (From "Out Of Africa")
The City of Prague Philharmonic Orchestra
- Suite (From "My Sister's Keeper")
The City of Prague Philharmonic Orchestra
- End Title (From "The Living Daylights")
The City of Prague Philharmonic Orchestra
- Air Bond / Necros Attacks (From "The Living Daylights")
The City of Prague Philharmonic Orchestra
- The John Dunbar Theme (From "Dances With Wolves")
The City of Prague Philharmonic Orchestra
- Two Socks Theme (From "Dances With Wolves")
The City of Prague Philharmonic Orchestra
- The Buffalo Hunt (From "Dances With Wolves")
The City of Prague Philharmonic Orchestra
- Chaplin (From "Chaplin")
The City of Prague Philharmonic Orchestra
- Indecent Proposal (From "Indecent Proposal")
The City of Prague Philharmonic Orchestra
- Moviola
The City of Prague Philharmonic Orchestra
- Main Title / Bogota 1984 / "Did You Call Me?" (From "The Specialist")
The City of Prague Philharmonic Orchestra
- Cry The Beloved Country (From "Cry The Beloved Country")
The City of Prague Philharmonic Orchestra
- Love Theme (From "The Scarlet Letter")
The City of Prague Philharmonic Orchestra
- The Story Ends (From "Mercury Rising")
The City of Prague Philharmonic Orchestra
- Enigma Theme (From "Enigma")
Download Boxed Set (SILED1445)
The City of Prague Philharmonic Orchestra

- Titles / News of the Massacre / Rorke's Drift Threatened (From "Zulu")

The City of Prague Philharmonic Orchestra

- Durnford's Horses Arrive and Depart / The Third Assault (From "Zulu")

The City of Prague Philharmonic Orchestra

- Main Title / The Kidnap / The Ransom / End Title (From "Séance On A Wet Afternoon")

The City of Prague Philharmonic Orchestra

- Fight On The Disco Volante / Finale (From "Thunderball")
The City of Prague Philharmonic Orchestra
- Main Title / Moses in the River / An Elephant called Emily / The Dam / "What Would I Do For laughs" (From "Mister Moses")
The City of Prague Philharmonic Orchestra
- The Wedding / James Bond Averts WW3 / Capsule In Space (From "You Only Live Twice")
The City of Prague Philharmonic Orchestra
- Richard's Joust / Geoffrey's Battle (From "The Lion In Winter")
The City of Prague Philharmonic Orchestra
- Fanfare for Philip / The Great Hall Feast (From "The Lion In Winter")
The City of Prague Philharmonic Orchestra
- Escape From Piz Gloria / The Ski Chase (From "On Her Majesty's Secret Service")
The City of Prague Philharmonic Orchestra
- We Have All The Time In The World (From "On Her Majesty's Secret Service")
The City of Prague Philharmonic Orchestra
- The Last Valley Main Titles Part 1 (From "The Last Valley")
The City of Prague Philharmonic Orchestra
- Vogel's Dream / The Last Valley (From "The Last Valley")
The City of Prague Philharmonic Orchestra
- The Last Valley - Main Titles Part 2 (From "The Last Valley")
The City of Prague Philharmonic Orchestra
- The Good Times are Comin' / Sit Him High / Death of Martine (From "Monte Walsh")
The City of Prague Philharmonic Orchestra
- Mr. Kidd And Mr. Wint / Moon Buggy Ride (From "Diamonds Are Forever")
The City of Prague Philharmonic Orchestra
- The Deserted Settlement / The Final Dance (From "Walkabout")
The City of Prague Philharmonic Orchestra
- This Way Mary - Mary's Theme (From "Mary, Queen Of Scots")
The City of Prague Philharmonic Orchestra
- Main Title / The Game's Afoot (From "They Might Be Giants")
The City of Prague Philharmonic Orchestra
- Alice's Adventures In Wonderland (From "Alice's Adventures In Wonderland")
The City of Prague Philharmonic Orchestra
- The Man With The Golden Gun (From "The Man With The Golden Gun")
The City of Prague Philharmonic Orchestra
- Slow Boat From China / Nick Nack / The Man With The Golden Gun (From "The Man With The Golden Gun")
The City of Prague Philharmonic Orchestra
- Main Theme / Hitchhike to Darwin / Sail the Summer Winds (From "The Dove")
The City of Prague Philharmonic Orchestra
- The Ride to Sherwood / The Ride to Nottingham (From "Robin And Marian") [Film Version]
The City of Prague Philharmonic Orchestra
- To Cornwall / All That's Left (Memories Of The Titanic) [From "Raise The Titanic"]
The City of Prague Philharmonic Orchestra
- Raise The Titanic / Deep Quest Saved (From "Raise The Titanic")
The City of Prague Philharmonic Orchestra
- Bond Meets Octopussy / Bond Lookalike / The Palace Fight (From "Octopussy")
The City of Prague Philharmonic Orchestra
- Wine With Stacey / Fanfare / Snow Job (From "A View To A Kill")
The City of Prague Philharmonic Orchestra
- Main Title / Bogota 1984 / "Did You Call Me?" (From "The Specialist")
The City of Prague Philharmonic Orchestra
- Cry The Beloved Country (From "Cry The Beloved Country")