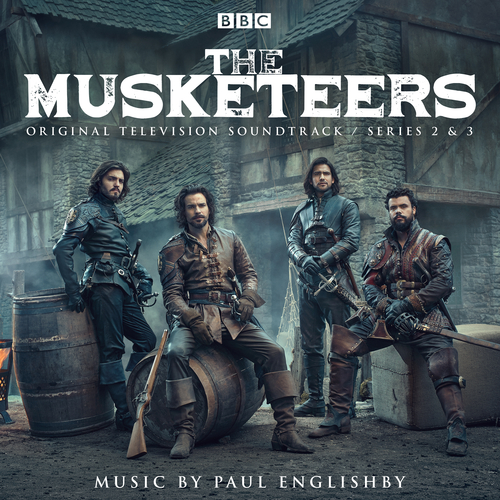 The Musketeers - Series 2 & 3 (Original Television Soundtrack)
Available Formats
Tracks
Price
Buy
CD Double Album
40 tracks

£

9.99

Out of stock

Download Double Album (

MP3

)
40 tracks

£

10.99

Download Double Album (

FLAC

)
40 tracks

£

10.99

Download individual tracks
From £0.99
Description
Paul Englishby - The Musketeers - Series 2 & 3 (Original Television Soundtrack)
From award winning composer Paul Englishby.
Alexandre Dumas's swashbuckling classic remains as relevant to today's audiences 172 years later as much as it did when first published in 1844. The BBC Drama production which first hit our screens in 2014 brought a fresh and contemporary take on the novel and its characters and immediately struck a chord with viewers. Inspired by the novel, events of the period and contemporary issues given an historical spin the drama has now reached a third series in a prime BBC1 Saturday night viewing slot.
Composer Paul Englishby studied composition at both Goldsmiths' College and The Royal Academy of Music. He is an award-winning composer working across a wide variety of television, film and theatre. Throughout his career he has shown a great versatility having composed the thrillingly tense music of Luther, for which he was BAFTA nominated, and he arranged the big band jazz sounds of Stephen Poliakoff's Dancing on the Edge. He has worked on a number dramas for the BBC including Inside Men, Good Cop and Page Eight. This 2CD album contains music from Series 2 and 3 by Paul Englishby only. It does not include the Musketeers Title Theme Music or any music from Series 1.
Reviews
Tracklisting
CD Double Album (SILCD1509)
Download Double Album (SILED1509)
Paul Englishby

- The Musketeers Theme

Paul Englishby

- The Ravine

Paul Englishby

- Rochefort and The Musketeers

Paul Englishby

- D'Artagnan's Rescue Mission

Paul Englishby

- Milady and the Jewels

Paul Englishby

- Escape Foiled

Paul Englishby

- The Christening

Paul Englishby

- Hail Mary

Paul Englishby

- Constance and D'Artagnan

Paul Englishby

- The Innocents

Paul Englishby

- Samara

Paul Englishby

- In the Stars

Paul Englishby

- Aramis and the Queen

Paul Englishby

- They are Here Somewhere

Paul Englishby

- The Aftermath

Paul Englishby

- Training the Village

Paul Englishby

- Athos Remembers Milady

Paul Englishby

- Enjoy your Evening

Paul Englishby

- He Died for his Country

Paul Englishby

- Series Two Finale
Paul Englishby

- Refugees
Paul Englishby
- Sylvie Hides the Evidence
Paul Englishby
- Feron
Paul Englishby
- Bonnaire
Paul Englishby
- Sylvie and Athos
Paul Englishby
- Feron's Entertainment
Paul Englishby
- Grimaud's Wrath
Paul Englishby
- King Louis
Paul Englishby
- The Prisoners Escape
Paul Englishby
- Madman
Paul Englishby
- Humiliation of the Red Guard
Paul Englishby
- The Village
Paul Englishby
- Porthos meets Elodie
Paul Englishby
- Death of a Great Man
Paul Englishby
- Hiding the King
Paul Englishby
- Conclusions
Paul Englishby
- The Garrison
Paul Englishby
- Requiem
Paul Englishby
- We Refuse to Die
Paul Englishby
- Series Three Finale