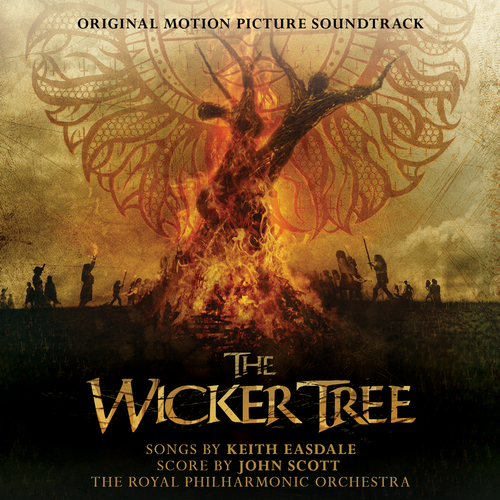 The Wicker Tree
Available Formats
Tracks
Price
Buy
CD Album
38 tracks

£

9.99

Out of stock

Download Album (

FLAC

)
38 tracks

£

11.99

Download Album (

MP3

)
38 tracks

£

11.99
Description
Various Artists - The Wicker Tree
A 2CD set featuring the score by John Scott and songs by Keith Easdale from the film by Wicker Man director Robin Hardy that follows similar themes to the 1973 cult classic.

The story of two devout Christians who become enmeshed in the strange ways of a Scottish community, the music and songs are once more a driving force of the film's story, much like its predecessor John Scott's music career extends to over sixty years of writing and composing.

As an arranger, conductor and musician his work appears on many classic 1960s hits, not least playing flute on The Beatles' You've Got To Hide Your Love Away and lead sax on Goldfinger.

His film and TV composing career extends to over 140 titles (Greystoke: The Legend Of Tarzan, Lord Of The Apes, The Cousteau Odyssey).

He is a celebrated classical composer and has conducted many of the world's leading orchestras including The Royal Philharmonic Orchestra who perform The Wicker Tree score.

Traditional Scottish artist and composer, Keith Easdale, provides songs that propel the story and he was present throughout the production to supervise the music which has been described as the spine of the film.

Reviews
'all the more shocking by the calm of the gorgeous lilting folk songs and speckles of warm, earthy humour'
-damatomato, frightfest.co.uk
'music is a high point for the film - mingling folk songs, Christian hymn and country music'
-Terry Mulcahy, Film4.com
Tracklisting
CD Album (SILCD1374)
The Royal Philharmonic Orchestra conducted by John Scott

- Sacrificial Dance

The Royal Philharmonic Orchestra conducted by John Scott

- Promises

The Royal Philharmonic Orchestra conducted by John Scott

- Bonnie Scotland

The Royal Philharmonic Orchestra conducted by John Scott

- Evangelists

The Royal Philharmonic Orchestra conducted by John Scott

- Interesting

The Royal Philharmonic Orchestra conducted by John Scott

- Drive to the Inn

The Royal Philharmonic Orchestra conducted by John Scott

- May Queen's Dress

The Royal Philharmonic Orchestra conducted by John Scott

- The Raven

The Royal Philharmonic Orchestra conducted by John Scott

- Minerva of the River

The Royal Philharmonic Orchestra conducted by John Scott

- Lost Ring

The Royal Philharmonic Orchestra conducted by John Scott

- Lolly in Love

The Royal Philharmonic Orchestra conducted by John Scott

- Beth and Steve

The Royal Philharmonic Orchestra conducted by John Scott

- Son of a Bitch Cowboy

The Royal Philharmonic Orchestra conducted by John Scott

- Butler and Cat

The Royal Philharmonic Orchestra conducted by John Scott

- Donkey

The Royal Philharmonic Orchestra conducted by John Scott

- Morning of the Sacrifice

The Royal Philharmonic Orchestra conducted by John Scott

- Ancestral Portrait

The Royal Philharmonic Orchestra conducted by John Scott

- Hunt the Laddie

The Royal Philharmonic Orchestra conducted by John Scott

- Preparing the May Queen

The Royal Philharmonic Orchestra conducted by John Scott

- Arrival at the Castle

The Royal Philharmonic Orchestra conducted by John Scott

- The Laddie's Throne

The Royal Philharmonic Orchestra conducted by John Scott

- The Sacrifice

The Royal Philharmonic Orchestra conducted by John Scott

- Beth Escapes

The Royal Philharmonic Orchestra conducted by John Scott

- Death of Lachlan

The Royal Philharmonic Orchestra conducted by John Scott

- Wicker Tree Burns

The Royal Philharmonic Orchestra conducted by John Scott

- Take Me to Heaven

The Royal Philharmonic Orchestra conducted by John Scott

- End Credits 1

The Royal Philharmonic Orchestra conducted by John Scott

- Follow Me
Keith Easdale, June Nelson, Gordon Wilson, Lucy Hutchison, Stuart Glasgow

- The Wicker Tree Song
Brittania Nicol & Keith Easdale
- I Know Where I'm Going
Brittania Nicol
- The Magnificat
Brittania Nicol, Susan Gibson, Ann Baton & Stuart Glasgow
- The Canticle
Brittania Nicol & Stuart Glasgow
- Trailer Trash Love
Keith Easdale
- The Braes of Balquhidder
St.Clair Leveaux & Stuart Glasgow
- The Fruity Song
Keith Easdale, Brittania Nicol, John Paul McGillivary & Stuart Glasgow
- Power in the Blood
Keith Easdale, Brittania Nicol
- Time's Passing Frame
Keith Easdale, June Nelson, Gordon Wilson, Lucy Hutchison, Stuart Glasgow & The Clydebank Male Voice Choir
- The Wicker Tree Song (End credits)
Download Album (SILED1374)