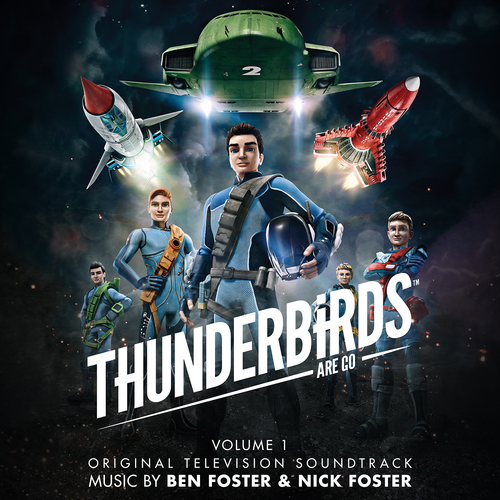 Thunderbirds Are Go, Vol. 1 (Original Television Soundtrack)
Available Formats
Tracks
Price
Buy
CD Album
57 tracks

£

8.99

Out of stock

Download Album (

MP3

)
57 tracks

£

7.99

Download Album (

FLAC

)
57 tracks

£

7.99

Download individual tracks
From £0.99
Description
Ben Foster & Nick Foster - Thunderbirds Are Go, Vol. 1 (Original Television Soundtrack)
Fifty years after its television debut, Thunderbirds launched once again this
year as ITV brought back the cult programme using a combination of CGI
animation and live-action model sets. Despite its new high-tech look, the
production retained strong characters and great adventure stories, all the
qualities that made the original series a worldwide success.
The Silva Screen soundtrack features the brothers' Ben and Nick Foster's
music from the first 13 episodes of the new series, aired on ITV from April
2015. The second, 13 part series launches on 7th November.
Ben Foster is best known for the first three series of Torchwood, which
earned him 3 BAFTA nominations for best music. His other notable work
includes BBC's Hidden Kingdoms, ITV's Scott & Bailey and Russell T Davies'
Banana for E4.
Nick Foster is an award-winning composer best known for his work for television and commercials. His TV work in factual and prime-time entertainment shows includes six years of specials for Derren Brown, and two BAFTAs ; one for The Cube, and one for Derren Brown : Apocalypse.
Performed by the award winning The City of Prague Philharmonic Orchestra.
Tracklisting
CD Album (SILCD1487)
Download Album (SILED1487)
Ben Foster

- 10,000 Feet and Climbing

Ben Foster

- Thunderbirds March

Ben Foster

- The Launch

Ben Foster

- Dr. Meddings in a Fix

Ben Foster

- Seaquake

Ben Foster

- An International Rescue

Ben Foster

- The Hood - He's Back!

Ben Foster

- Previously on Thunderbirds Are Go

Ben Foster

- Halo Jump

Ben Foster

- Sunrise

Ben Foster

- Alan to the Rescue

Ben Foster

- The Hood vs Kayo

Ben Foster

- Tracy Island

Ben Foster

- Thunderbirds Triumphant

Ben Foster

- Space Junk

Ben Foster

- London Branch Investigates

Ben Foster

- Parker on the Prowl

Ben Foster

- The Grey Ninja

Ben Foster

- Trouble Underground

Ben Foster

- The Van Arkel Mine

Ben Foster

- No Thanks, Metal Man!

Ben Foster

- The Mole Digs In

Ben Foster

- Trouble in the Hood

Ben Foster

- Major Landing Gear Fail

Ben Foster

- Fireflash Landing

Ben Foster

- If I Don't Make It

Ben Foster

- Mission Accomplished

Ben Foster

- The Luddites

Ben Foster

- Save One Life - Then Save the World

Ben Foster

- The Train that Couldn't Slow Down

Ben Foster

- Meanwhile, on Tracy Island

Ben Foster

- It's a Runaway !

Ben Foster

- Grandma Tracy

Ben Foster

- No Contact With Earth

Ben Foster

- EOS Awakens

Ben Foster

- Lady Penelope

Ben Foster

- EOS Finds a Friend

Ben Foster

- Ned Tedford at the Helm

Ben Foster

- A Rock in Space

Ben Foster

- Alan Around The World

Ben Foster

- A True Tracy

Ben Foster

- At the Pyramid of the Laughing King

Ben Foster

- Lady P Investigates

Ben Foster

- Into The Temple

Ben Foster

- Deeper Into this Accurséd Tomb

Ben Foster

- Point of No Return

Ben Foster

- It's Now or Never

Ben Foster

- Thunderbird 2 is Going Down

Ben Foster

- International Rescue Meets its Match

Ben Foster

- Crisis Averted

Ben Foster

- The Continuing Woes of Ned Tedford

Ben Foster

- FAB1 Versus the Hoodlum

Ben Foster

- A Giant Theme Park of Science

Ben Foster

- Whirlpool

Ben Foster

- The Gravity Well

Ben Foster

- Tracy Brothers to the Rescue

Ben Foster

- Closing Titles