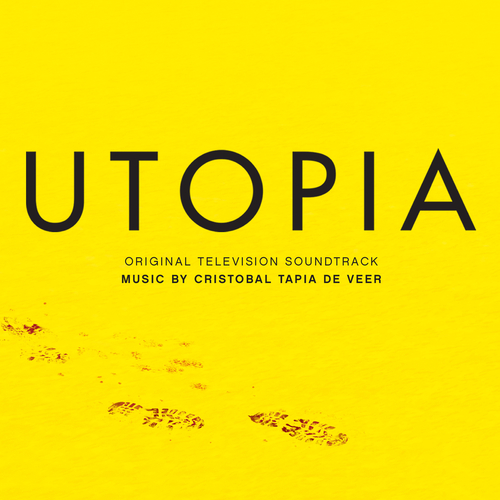 Utopia (Original Television Soundtrack)
Available Formats
Tracks
Price
Buy
CD Album
28 tracks

£

8.99

Download Album (

FLAC

)
28 tracks

£

7.99

Download Album (

MP3

)
28 tracks

£

7.99

Download individual tracks
From £0.99
Description
Cristobal Tapia de Veer - Utopia (Original Television Soundtrack)
Chilean composer Cristobal Tapia de Veer's original music for Channel 4's ultra-violent masterpiece.
Penned by Dennis Kelly (Matilda the Musical), Utopia is a domestic thriller that can equal the current output of American television. The six part series revolves around a group of graphic novel fans who discover a terrible secret. Stylish, intelligent and cinematic the show has now been confirmed for a second series in 2014.

Based in Canada the composer delivered a much praised score for the BBC production The Crimson Petal And The White and then moved to London for six months to complete as he says, "six months of guerilla composition" for Utopia. Described by The Arts Desk as "Cristobal Tapia de Veer's cunning, menacing music", the score features instruments ranging from a rare Chilean trutruka recorded in Borough tube station to the percussion sounds of a rhino turd from Zimbabwe. This is one of the most eclectic and innovative scores in a long while.
Reviews
RTS Awards Winner 2013
Mojo Magazine - No.4 in Top Ten 2013 soundtracks
Record Collector - Xmas "Best of 2013" roundup
"…a twitiching, engaging and unique score that sounds unlike anything we've heard in some while. We've been waiting for this release since the show appeared on telly so we're well chuffed now it's out." - Record Collector 5*
"Utopia by Cristobal Tapia De Veer is definitely some of the weirdest music I have ever heard." - Den of Geek
"…there's something irresistible about the oddness of it all." - CultBox
"Credit goes to Cristobal Tapia De Veer for his awe-inspiring work with the music." - Vada Magazine
"By turns unsettling and playful, it was absolutely intrinsic to the tome, and success of the show." - Viewing Gum (2013 Soundtrack of the year)
"This show. This music. Everything about is so odd and so perfect. The soundtrack to this show is quite honestly one of the best I've ever heard…" - Waterman Butterly (Top tracks of 2013 - UTOPIA OVERTURE - CRISTOBAL TAPIA DE VEER)
Tracklisting
CD Album (SILCD1437)
Cristobal Tapia de Veer

- Utopia Overture

Cristobal Tapia de Veer

- The Network

Cristobal Tapia de Veer

- Dislocated Thumbs (Pt. 1)

Cristobal Tapia de Veer

- Mr. Rabbit's Game

Cristobal Tapia de Veer

- Conspiracy (Pt. 1)

Cristobal Tapia de Veer

- Meditative Chaos

Cristobal Tapia de Veer

- A New Brand of Drug

Cristobal Tapia de Veer

- Samba De Wilson

Cristobal Tapia de Veer

- Slivovitz

Cristobal Tapia de Veer

- Bekki On Pills (Pt. 1)

Cristobal Tapia de Veer

- Where Is Jessica Hyde? (Pt. 1)

Cristobal Tapia de Veer

- Arby's Oratorio

Cristobal Tapia de Veer

- Jessica Gets Off

Cristobal Tapia de Veer

- Mr. Rabbit It Is

Cristobal Tapia de Veer

- Lovechild

Cristobal Tapia de Veer

- Mind Vortex

Cristobal Tapia de Veer

- Twat

Cristobal Tapia de Veer

- Bekki On Pills (Pt. 2)

Cristobal Tapia de Veer

- Fertility Control

Cristobal Tapia de Veer

- Janus Saves

Cristobal Tapia de Veer

- Evil Prevails

Cristobal Tapia de Veer

- Conspiracy (Pt. 2)

Cristobal Tapia de Veer

- Dislocated Thumbs (Pt. 2)

Cristobal Tapia de Veer

- Utopia Descent

Cristobal Tapia de Veer

- Where Is Jessica Hyde? (Pt. 2)

Cristobal Tapia de Veer

- Utopia's Death Cargo

Cristobal Tapia de Veer

- The Experiment

Cristobal Tapia de Veer

- Utopia Finale
Download Album (SILED1437)